Home > News > India Fashion Week > Feature

Fun, designs and Malini Ramani

Sita Menon | July 20, 2003 21:22 IST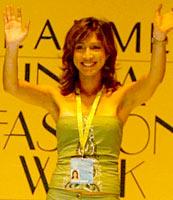 She is the original enfant terrible of the Indian fashion world. Known more for the controversies she courts than her designs, Malini Ramani has couple of firsts to her credit.
One of the first to start a label -- Gimara -- Malini's designs are available at prestigious international stores such as Searle, Bloomingdales, Henri Bendel, Barneys, Walker Lansing, Betsey Johnson, Nordstorm and Stuart Weitzman.
She once famously described her clothes as 'Rock star meets Indian princess'. Vibrant, sexy, dramatic and eminently wearable are how some of her patrons describe their favourite designer. Part of the India Fashion Week since its inception four years ago, Malini showcased her eclectic collection to the Mumbai glitterati on July 19 drawing oohs and aahs.

Mom and designer Bina Ramani on her daughter's show: I'm so proud of my baby. She's been working like a maniac for so long, and it's just brilliant. She completely forbade me from watching any of her work so far. She said, "Mummy, just don't be part of this. Let me put it together my way." I haven't been part of the whole process -- I was away in America for two months and I've just come in from Goa now. I just feel so wonderful about her. I was controlling myself from jumping up and down. It was wonderful.
Gautam Singhania, Raymonds: Being at the fashion week every year just confirms my belief that we have so much variety -- there's so much talent. It's good to know what's happening in the fashion industry. Being here gives you a good feel for the trends. I wear all of these clothes. But I especially like Raghavendra Rathore and Rajesh Pratap Singh.
Rahul Bose, actor: What a waste of a seat! (self-deprecatingly)  I know next to nothing about fashion. Look at what I'm wearing. Do I look like I'm fashion-conscious?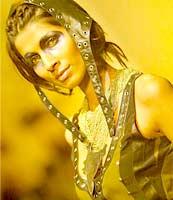 Pooja Bedi, actress: I just loved the fun and humour in Malini's clothes. She's just so talented -- she's one of my favourite designers. And what can I say about Rohit Bal? He's one of the most talented and creative designers we have. But I wouldn't have missed Malini's show for the world.
Simone Tata: It is so brilliant. I don't know how many are wearable, but they're certainly flamboyant designs and show strongly individualistic voices. Indian fashion is certainly moving ahead, and I see a definite upsurge now, more than ever, for the better. People are so much more fashion conscious than before.
Tina Tahiliani, owner of Ensemble, and prospective buyer: Oh my God, all this [Malini Ramani] will be so tough to sell. But weren't her designs simply fabulous? What fun -- she has such a wicked sense of humour in her designs, and her shows.
Ramona Garware: It's always a great feeling to watch Indian fashion move ahead. I've been pretty regular at the Mumbai fashion weeks and it's a great feeling to witness this whole fashion movement.
Spotted at India Fashion Week: Arun Nayyar, industrialist and husband-to-be of supermodel-actress Elizabeth Hurley. He wore a definitely non-threatening light blue full-sleeved shirt with a pair of blue jeans. "Man, Indian fashion is amazing. There is such diversity, vibrant, talent. I'd love to own all of these clothes!" the man in the international spotlight said.
Have you checked out...
Ritu Kumar taught me to dress fashionably: Neha Dhupia
Cue combines frills with combat gear
My clothes are sexy: Rocky S
Photos: Jewella C Miranda