Home > News

December 18, 2003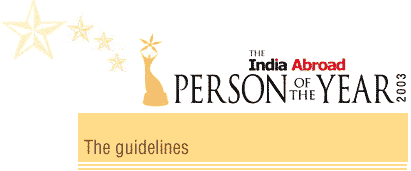 The award was restricted to Indian-Americans who lived and worked in
the American space;
The award would go to the person with the most significant achievement
in the calendar year 2003; it would, by definition, therefore be an
award for a finite period, and not for a lifetime's body of work;
It would not be a posthumous award;
The deliberations would be confidential; on the appropriate date, the
name of the India Abroad Person of the Year 2003 would be divulged, but
not those of other candidates in consideration. This, it was pointed
out, was to ensure that there were no negative connotations attached to
losing.
The decision of the jury would be final, and binding, on all.
As its first act, the jury accepted the guidelines and promised to keep them in mind. Yet, in the early minutes of the deliberations, a certain sense of unease was detectable among its members.
It was as if they all had a question in their minds; a question that, for reasons of politeness, they did not know how to phrase.
Finally, jury chair Swati Dandekar voiced the collective question: "Does India Abroad have any name or names it would like to see considered for the honour? Does it have any specific instructions for the jury?"
"The choice is entirely yours," Balakrishnan said, "and at no stage do you need to consider anything other than the qualifications of the candidates themselves."
"Do not worry about India Abroad," he exhorted the jury. "The choice is yours, the rationale behind the choice has to be yours; India Abroad's role is restricted to facilitating your deliberations and accepting your unanimous choice."
That cleared the air; the jury promptly got down to business.
Next: The procedure 

Photograph: Paresh Gandhi
ALSO SEE
India Abroad Person of the Year: The complete coverage
The Rediff Specials