Home > News > Specials

The Rediff Special/Kirti Pandey

August 23, 2003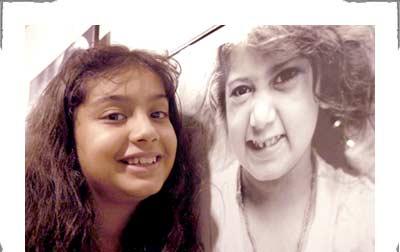 Mumbai's National Centre for Performing Arts is playing host to a unique exhibition of photographs titled Life... Through My Eyes. The eyes in question belong to eight-year-old child model and actress Saakshi Sem, and the life they depict ranges from the pain of a child's illness to the joy of being alive in India.

Saakshi, who played the role of the little child Rani in Raju Chacha, dreams of becoming a film director when she grows up. The 58 photos on show at NCPA's Piramal Gallery successfully capture a range of expressions and are a testimony to her talent. These black-and-white photos have mainly captured village life and child patients at Mumbai's Wadia Hospital.
When did Saakshi's fascination with the camera begin? "I began fiddling with the camera when I was four, but started serious photography just a year ago," she says.

Ask her what drew her to photography and pat comes the proud reply, "My father [Vishaal Sem] is a photographer and my grandfather [D D Sem] was the president of the Northern Photographers Association of India." Vishaal Sem owns a manual photography lab in Andheri, a Mumbai suburb.

Saakshi, who is studying in the fourth standard at the Anandilal Podar High School, clicked her first picture -- that of her younger sister Tanishka -- at the age of seven. The camera she uses is her father's Nikon F70. "He's buying a new one. So it's mine now!" she grins happily.

But be prepared for a rather adult-like answer if you ask her who her inspiration is. "[Padma Bhushan awardee] Raghu Rai," she says without hesitation. "I saw his book Bhopal Gas Tragedy and the pictures affected me a lot. I started crying."
What about the exhibition? What was her inspiration for her subject there? "Our bai [house help] stays in a village in Karjat [a district in Maharashtra, a few hours away from Mumbai]. We go to drop her and pick her up. I went to her village and saw a completely different life there. So I started clicking pictures of what I saw."

Saakshi wants to use her lens to bring home the suffering of the less fortunate to the urban public.
Her photographs of child patients at Wadia Hospital tug at the heartstrings. "I saw a one-month-old baby with wires all over him. He was so little," she exclaims, the memory dimming the twinkle in her eyes.

Her favourite picture is that of an old lady, titled 'Can you help me?' Ask her why and she thinks a while before answering, "That lady was so old she could barely talk or walk. She was walking with the help of a stick and was bent. Her face was so full of wrinkles."

Saakshi has shot pictures in villages in Karjat, Igatpuri, Nashik and Shirdi in Maharashtra. Some of the pictures have been shot in the Mumbai suburb, Versova.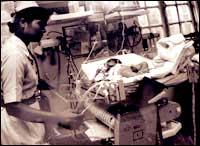 Is baby sister Tanishka into photography as well? "Yes! But she has just started on it. She's quite a shy person and hates being in the public eye. So her collection of photographs is a big secret!" laughs Saakshi's mother, Dolly.

And what is Saakshi busy clicking these days? "Indian festivals. She's already started by clicking Independence Day," says Dolly proudly.
Saakshi, however, will not be allowed to bunk school to pursue her hobby, says her mother firmly. "We'll take her to different parts of India, but at a slow pace and only after her showbiz assignments and exams are over." 'Festivals of India' will also be her first collection of colour photographs and Saakshi hopes it will include a few images from the Kumbh Mela.
Saakshi started modelling the age of three. She has, according to her mother, modelled in more than a 100 television and print commercials. Some of her assignments over the last five years have included Maggi Noodles, Gycoldin Cough Syrup, Pepsodent toothpaste and Pears soap.
Her stint on the big screen includes Raju Chacha and 88 Antop Hill. She has also acted in the television serials Rishtey, Krishna Arjun, Sanjeevani and Ssssh… Koi Hai.
Juggling photography and acting with school can't be easy. Doesn't schoolwork suffer? "I'm allowed to click pictures only on weekends and holidays. The same goes for acting too," asserts the little lady. Not that she has any complaints on that score. For her, studying isn't a chore, "It's fun!" Dancing and reading are also 'fun'!

The Sems, like many parents, regulate her access to television. She's allowed to watch television, but MTV and Channel [V] are strictly banned in the Sem household!

Life... through Saakshi's eyes is hectic indeed. What we can see through ours is that talent knows no bar -- not even that of age. All one needs to do to understand that is look at Saakshi's pictures:
Click here to take a look at some of Saakshi's images
The Rediff Specials