Home > News > Specials

The Rediff Special/Arun Venugopal

August 21, 2003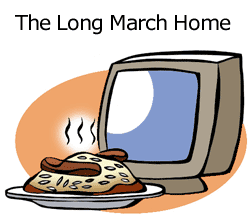 It was the sausage that worried me most. I'd left my half-eaten lunch on my office desk -- sausage and peppers in some sort of tomato sauce, served over rice -- and when the lights went out, I didn't think of sealing the container and disposing of everything in an appropriate trash receptacle.
What would become of the sausage? Would the heat and humidity combine to turn the food into a noxious stink bomb that would go off when the first employees returned to office? Would rodents descend upon the food in my absence and permanently violate the sanctity of my workspace? What exactly was that sausage made of? When was I going to finally become vegetarian? If I threw away the sickly sweet mango ice I was eating and waited another five minutes, would I be able to pick up yet another discounted ice-cream, maybe even two, on my way home?
There are all sorts of things that enter your mind during a long walk. The walk from my office in Manhattan to my Brooklyn home took a little less than two hours. I went down Fifth Avenue until I hit Union Square, paused to watch those guys who play drums on overturned buckets, cut over to Third Avenue until it merged with the Bowery, where all those men normally holed up in flophouses were out on the sidewalk, taking in the spectacle.
On occasion, I'd stop and see if I could take a bus for a stretch, but most of them appeared to be NOT IN SERVICE, and anyways, there was something quite charming about trudging with the masses, the hundreds of thousands of people making their way downtown, towards the Manhattan and Brooklyn Bridges.
The stream passed through Chinatown. Normally, I find the odor of Chinatown's streets appealing - all that Choy Sum and fish juice flung on the curb. That day, it really reeked, so I didn't linger or try to satisfy my usual craving for a red bean bun or a winter melon pastry.
Also, my wife was waiting at home -- dutifully, of course -- and I thought it best not to dawdle. The Chinatown sidewalk vendors were doing big business, however. I noticed some well-dressed female executives doffing their high-heels for new pairs of flip-flops (aka chappals), which seemed like the absolute worst thing for a really long walk.
Here we were, on the Manhattan Bridge. A few men and women were trying to scale the walls along the subway track, after being stuck inside the system for a couple of hours. They were sooty and disheveled; I was reminded of all those refugees who sneak through the Channel Tunnel, from France into England.
The Bridge felt very long. Guys stood around with camcorders and fancy cameras. There were holes in the tar through which you could see the East River, down below. I wondered whether it was some sort of engineering function or meant for tourists.
A busload of convicts drove by.
"Hey, baby," one of them cried out to a black woman walking near me, "I'll be out in two years!" We laughed. I thought of several witty rejoinders, about ten minutes later.
We finally emptied out onto the Brooklyn side. Flatbush Avenue was like a parking lot of people, all jammed together. It took me another twenty minutes, walking through the projects, to get home to my wife and kid. I was tired, but hey, at least I don't live out in Coney Island.
Illustration: Uttam Ghosh
More tales from the Blackout:
The light of the heart
Down to the wire
The light of the heart
A starry night at Hackensack
The Rediff Specials