Home > News > Specials

The Rediff Special/Kirti Pandey

August 18, 2003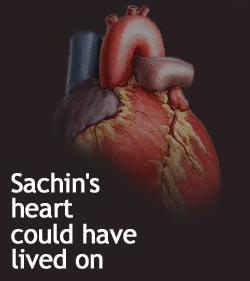 Puroshottam and Bharati Nehete's 19-year-old son Sachin, who was studying to be an engineer, met with an accident on the Bandra flyover in Mumbai. He succumbed to his injuries a few days later. The Nehetes were distraught with grief but made sure their son lived on by donating his kidneys and eyes. They, however, failed in their attempt to help more people by donating Sachin's heart, liver and pancreas. The reason: the authorities were unable to locate suitable recipients since there is no listing at an all India level of those who need donor organs.

"We knew our son was gone. His body would have to be burnt anyway. We felt it would be better if we donated his organs," says Puroshottam. He regrets that his son's other organs could not be of any use.

The Nehetes are not the only ones who were unable to donate their son's organs. Many families whose relatives have died in hospitals not authorised to carry out organ transplants have also found themselves unable to donate their organs.
Says Harsha Deshmukh, transplant coordinator, Hinduja Hospital, Mumbai, "In October 2000, we got a call from a Mamata Hospital in Dombivli [in Mumbai] about someone who wanted to donate the organs of their deceased relative. A team authorised to carry out organ retrieval had gone from Hinduja and Jaslok [another Mumbai hospital] to retrieve the organs. Later,  we received a letter from the State Appropriate Health Authority saying such retrievals were not allowed. You can't expect people willing to donate organs to die only in authorised hospitals!"
According to Deshmukh, there is no law that says such retrievals are not allowed. But, he says, hospitals have been told not to carry out retrievals from unauthorised hospitals. Anyone who wants to donate the organs of their deceased relatives have to first transfer the cadaver to an authorised hospital. "This is not always feasible for the relatives. Besides, after death, a person's organs remain in usable condition only for a certain period. After that, they are not retrievable," she says.
As of now, there are 14 hospitals in Mumbai and 29 hospitals in Maharashtra that have the authorisation to carry out organ retrieval and transplant.
Post the SAHA letter, the Hinduja Hospital received phone calls from the Parsi General Hospital and Holy Family Hospital in Mumbai to retrieve organs but could not act on these requests. "There should be a system by which an authorised team can retrieve organs from unauthorised hospitals. We are losing out on so many organs," says Deshmukh.


| | |
| --- | --- |
| | Also Read |
| | |
Savita Solanki, transplant coordinator at Jaslok Hospital, cites a case where the hospital received a call from Wadia Hospital; a child has just passed away and the child's parents wanted to donate the organs. "But we couldn't retrieve the organs because it isn't allowed," Solanki says. She says that, in the last three years, Jaslok Hospital has had only 15 consents out of which 10 have resulted in successful retrievals.

Solanki says this lack of awareness has lead to the loss of these precious organs, particularly in the case of brain stem deaths. "When a person is brain stem dead, there is no hope of his or her survival. But the family is still unwilling to recognise the fact that the person is dead and they can donate their organs," he says.

(The brain stem is a small area of the brain which controls respiration. If this area is dead, the person will never be able to breathe spontaneously or regain consciousness. The Transplantation of Human Organs Act 1994 has listed very stringent criteria that need to be fulfilled before a person can be certified as brain stem dead.)

Doctors are also reluctant to declare a patient brain stem dead. In many cases, this is due to the family's reluctance to believe that their relative -- in case of brain stem deaths, the body remains warm and, except for the ventilator which breathes for the person, the patient looks like s/he is sleeping � because the heart is still beating. Taking the decision to discontinue the ventilator is an emotionally-charged decision for the families.

"Most hospitals have brain stem death committees. The government has also asked every hospital to give the statistics of such deaths. Unfortunately, most hospitals don't comply. Organ donations are not taken seriously enough by hospitals," says Dr Hemant Phatak, head of urology at the Lilavati and Nair Hospitals in Mumbai. He tells us that Lilavati Hospital has not had a single case of organ donation this year while Nair Hospital has seen about eight transplants.

The lack of awareness among the masses and inadequate retrieval rules are barriers that prevent an increase in organ donations. Also, the medical fraternity seems poorly informed about such donations.

Vidya Acharya, member of the Maharashtra Confederation for Organ Transplants, a state level regulatory body, feels the family physician is the first person who needs to be educated about organ donation. "There are many cases of brain stem deaths but very few organs are donated. This is a direct result of the lack of education among family physicians. They are the ones who deal with the family on a regular basis," she says.

What about organ retrieval from unauthorised hospitals? "After the Dombivli incident we had transplants experts from abroad send in their comments. In foreign countries, there are only a few centres that are recognised for organ transplant. Authorised doctors from these centres are allowed retrievals from unauthorised medical centres. We have already submitted a proposal for such a system in Maharashtra; the proposal is now with G S Gill, health secretary and chairman of MCFOT," Acharya says. She is hopeful that such a system will soon be in place. Repeated attempts to contact Gill to know the status of the proposal met with no success.

MCFOT, a state level body, has Zonal Transplant Coordination Centres. Four ZTCCs have been formed, of which Mumbai and Pune are functional and Aurangabad and Nagpur are in the process of becoming functional. These ZTCCs have waiting lists of patients who are waiting for organs. The organs are distributed depending on the need of the patient concerned. Also, if an authorised hospital has received a donation of two kidneys, one is reserved by the hospital for its in-house waiting list of patients and the other is sent to the ZTCC.

Mandakini Megh, assistant director at the directorate of health services, says organs can be retrieved from unauthorised hospitals. "Hospitals not authorised to carry out organ transplant have to submit an application asking for permission to allow organ retrievals from their premises if there are donors."

She says organ donations are not taken seriously by most hospitals. "The fact that we have never had a single application asking for permission for organ retrieval shows that this is not a primary issue with them. If some hospital takes the initiative and asks for permission, a process can be put into place for retrievals from unauthorised hospitals."

Talking about the check on organ retrieval imposed by the Transplantation of Human Organs Act on unauthorised hospitals, she explains that its aim is to curb illegal sale of human organs.

"More hospitals should register themselves, but if they don't meet the requirements for registration the least they can do is make an application for permission [to get the organs retrieved]," says Megh.

Under the Transplantation of Human Organ Rules 1995, a hospital has to fulfil certain requirements of manpower, equipment, specialised services and facilities (see here) before it can be authorised for organ transplant and retrieval. Megh tells rediff.com that the state authorisation committee meets every week to clear applications and register hospitals.

Sachin Nehete lives on in his parent's hearts. But if organ donation was better organised, his heart could have lived on in someone else. That is the Nehetes' only regret.

Image: Uttam Ghosh


The Rediff Specials




What do you think about the story?








Read what others have to say:





Number of User Comments: 6








Sub: Good Gesture.

Its amazing to hear of such incidents of donors and hats off to them, but however, these organs that are donated are infact being sold ...


Posted by Syl









Sub: sachin's heart

information was dquate but it has to widely communicated through mass communication media like TV, Radio, advertisments, plays, drama so that all strata of people ...


Posted by YOJANA SINGH









Sub: Bad piece of journalism --- Sachins Heart

It seems Rediff is also following what others do. If u want to attract readers to ur articles have proper headlines in the links don't ...


Posted by Rahul









Sub: Sachins' heart could have lived

This I call real character and Courage in the worst possible adversities. No body wishes to be in a similar situation. But if unfortunately we ...


Posted by Rajendra









Sub: sachin

the msg was very informative to every reader. the govt has to pass an legislation for accepting the organs of the deceased so that it ...


Posted by lux






Disclaimer