April 27, 2012
Review: Tezz is high on action and style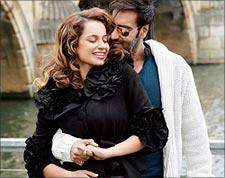 Priyadarshan's new film lives up to its name.
Review: Life Ki Toh Lag Gayi lacks imagination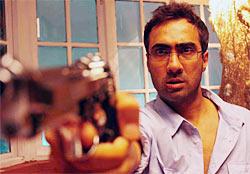 Kay Kay Menon, Ranvir Shorey and Manu Rish Chadha -- all fine actors -- seem wasted in the film.
April 25, 2012
Review: The Avengers is a spectacular hero sandwich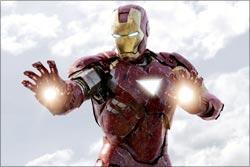 The Avengers is an absolute blast.
April 20, 2012
Review: Vicky Donor is a pleasant surprise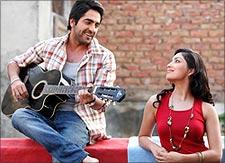 The running theme of Vicky Donor is acceptance, and embracing things without making too much fuss.
Review: Fantasy meets song-and-dance in Mirror Mirror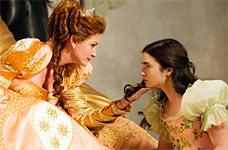 Like all other Tarsem Singh films, this one's a visual treat too.
Review: Hate Story is a hate crime against the sex-starved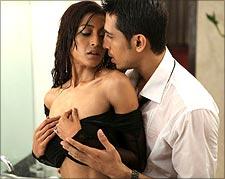 Publicised purely on the strength of its 'erotic' content and scandalously adult themes, Hate Story delivers very little actual heat.
April 13, 2012
Review: Battleship just doesn't hit you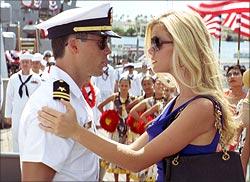 The film, along with the alien invasion, makes no sense at all.
Review: Bittoo Boss is a mostly amateurish effort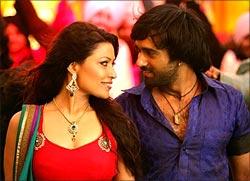 Supavitra Babul's directorial debut tries far too hard to be the next Band Baaja Baaraat.
April 06, 2012
Review: Housefull 2 is shamefully bad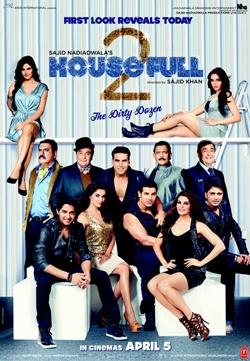 The film redefines the level of stupid comedy in films.
April 05, 2012
Review: Titanic in 3D is a tad understated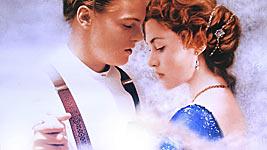 The first two hours barely reflect any 3D and the concluding one hour is unfairly mingy on technology that plays up its re-release.
March 30, 2012
Review: Lovely is a family entertainer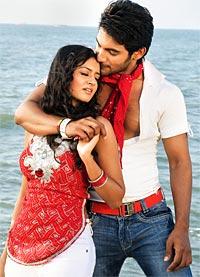 The first half of the film is breezy but the second half is overloaded with sentiment and emotion.
Review: Mirror Mirror is a visual treat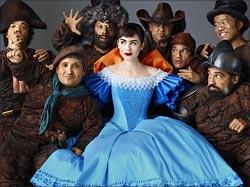 The film is an utterly delightful and fresh take on the classic fairy tale -- Snow White.
Review: Wrath Of The Titans is painful and utterly joyless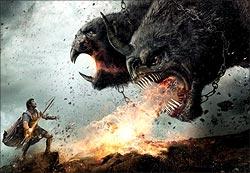 To most viewers, Wrath of the Titans will appear lousy and painful.
Review: Blood Money is mindless and boring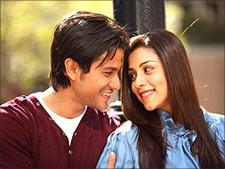 Unless stale stories, bad acting and bungled possibilities capture your fancy, this film is much too sluggish, simplistic and boring to bother.
March 23, 2012
Review: The Hunger Games is fabulously entertaining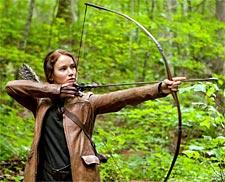 The film is about a barbaric reality show out of its vulnerable contestants among whom only one gets to walk out free.
Review: Agent Vinod just isn't clever enough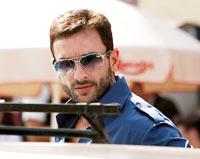 The problem lies in Saif Ali Khan characterisation as he fails to convincingly play a secret agent.
March 16, 2012
Review: This Means War fails to impress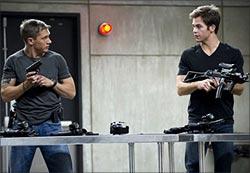 The film has none of the appeal or light-heartedness of a romantic comedy nor the suspense or style of a spy film.
March 09, 2012
Review: John Carter is engrossing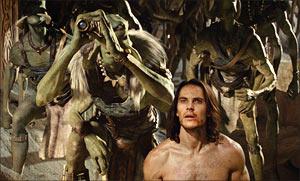 The filmis not half as bad as most such movies usually tend to be.
Review: Vidya Balan rocks in Kahaani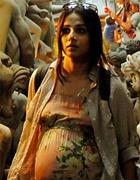 The clever twists and convincing acting from all the characters make the film worth a watch. It is indeed Sujoy Ghosh's best work so far.
March 08, 2012
Review: Char Din Ki Chandni lacks the LOL moment

Preeti Arora feels that Char Din Ki Chandni is one giant mishmash of garish sets, guns, pistols and very unfunny moments
March 02, 2012
Review: The Iron Lady works because of Meryl Streep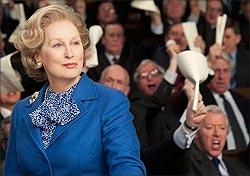 The Iron Lady is much too lethargic to create the complexity of Margaret Thatcher's supremacy or match the aura of Meryl Streep's ambitions, writes Sukanya Verma.
Review: Will You Marry Me fails to impress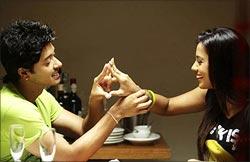 The only redeeming quality about the film is the complete lack of pretensions.
Review: London Paris New York is average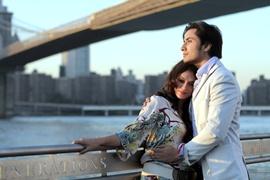 After Ek Main Aur Ekk Tu, this one's another coming-of-age film.
Review: Paan Singh Tomar is compelling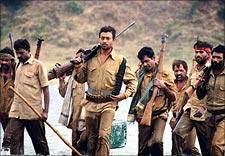 Director Tigmanshu Dhulia takes us on a journey inside a world that few of us know.
February 24, 2012
Review: Tere Naal Love Ho Gaya is a sweet love story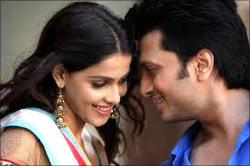 Tere Naal Love Ho Gaya reminds you of Dil Hai Ki Manta Nahin and Jab We Met.
Review: Moneyball is a winner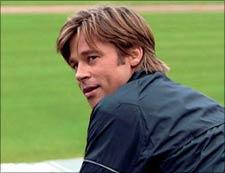 Aided by a sharply-penned character sketch, Brad pitt strips himself of all traces of a commercial star and becomes Billy Beane.
Review: The Artist is an instant classic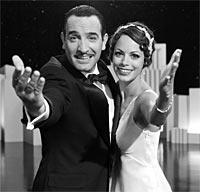 Ever since its debut last year at the Cannes Film Festival, The Artist has been showered with superlatives and it's easy to understand why.
Review: My Week With Marilyn is fascinating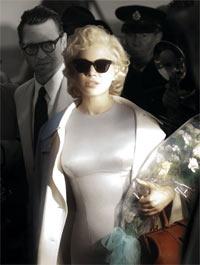 Michelle Williams is the star of the film.
Review: Jodi Breakers is seriously flawed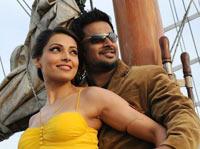 The film could have been so much more.
February 17, 2012
Review: Ghost Rider: Spirit Of Vengeance is a waste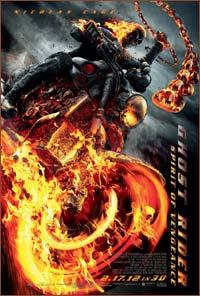 The film is half-baked and unfulfilling.
Review: This is no Blairwitch Project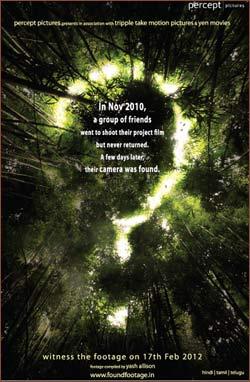 The film ? has no spooks.
Review: Ekk Deewana Tha fails to deliver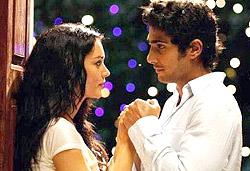 The only treat comes in the form of Manu Rishi's brief role and visually attractive scenes from Kerala.
February 10, 2012
Review: War Horse is schmaltzy but Superbly Shot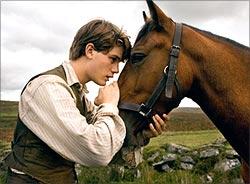 Steven Spielberg's War Horse is a mixed experience. We would recommend it for the striking imagery
Review: Safe House is a stylish thriller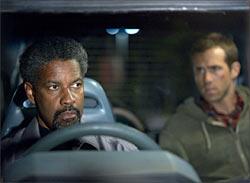 This one's a career-making performance for both actor Ryan Reynolds and director Daniel Espinosa.
Review: Ek Main Aur Ekk Tu is a treat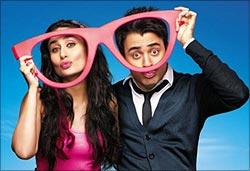 While Imran Khan seems tailor-made for his role, Kareena Kapoor is in her element again after Jab We Met.
February 03, 2012
Review: Gali Gali Chor Hai is a lame satire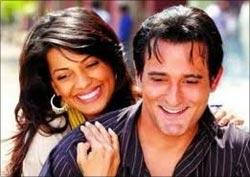 The film is simply not worth it.
January 26, 2012
Review: Agneepath, less of a remake, more of a tribute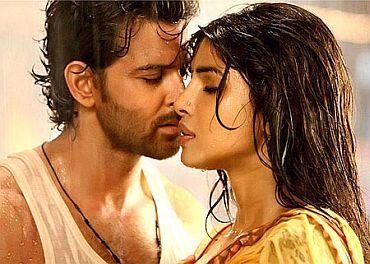 Agneepath is less of a remake, more of a tribute, writes Sukanya Verma
Review: The Descendants is a triumph of human imperfection

Shaikh Ayaz raves about George Clooney's Oscar-nominated film, The Descendants.
January 20, 2012
Karan Johar reviews Raja Sen!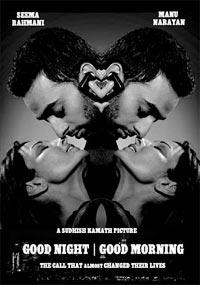 Karan Johar raves about this week's movie release, Good Night Good Morning; calls it celebral.
January 16, 2012
Review: Tutiya Dil is an honest film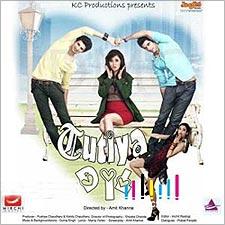 The film is well written and catches the viewers off-guard.
January 14, 2012
Review: Vettai is no classic, but it is good fun

Lingusamy is one director who has the commercial formula down pat. And his latest, UTV's Vettai, is certainly among the most appealing mainstream fare he has produced so far. The story is simple. Two brothers, Thirumurthy (played by R Madhavan) and Guru (played by Arya) are thick as thieves. Only, Thirumurthy is pretty much a wimp and needs his younger brother to fight all his battles, from quarrelling during a kite-flying expedition during childhood right up to adulthood.
Review: Bodyguard is strictly a one-time watch

Bodyguard has seen two remakes in Tamil and Hindi after the Malayalam original and all of them have been successful. The third remake in Telugu, starring Venkatesh and Trisha, directed by Gopichand Malineni has been adapted considerably to suit the Telugu audience though it is quite similar to the Hindi version.
January 13, 2012
Review: Chaalis Chauraasi has stellar performances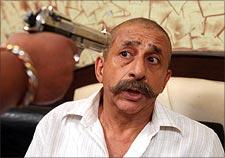 Skilled actors sometimes rescue a film when the script is flailing. Chaalis Chauraasi is one such film.
Review: Arthur Christmas is a delightful watch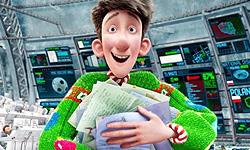 The film could've easily been a front-runner for accolades at Academy and Globe awards.
January 06, 2012
Review: The Darkest Hour fails to make an impact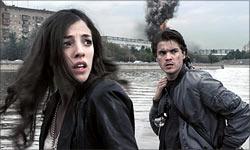 If it had allowed itself greater scope, the film might have been more endurable
Review: Players is lacklustre and unimaginative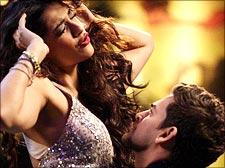 The film is more Race than The Italian Job.
Archives
September - December 2011
|
May - August 2011
|
January - April 2011
|
August - December 2010
|
May - July 2010
|
February - April 2010