The Zodiac Killer is one of the great unsolved serial killer mysteries of all time, taking only second place to Jack the Ripper. David Fincher, who gave us the classically cold and edgy Se7en, reloads his 9mm for his second serial killing spree with Zodiac.
Fincher's Zodiac is based on the two non-fiction books by Robert Graysmith (Zodiac and Zodiac Unmasked) that chronicles the bizarre and bloody adventures of a notorious serial killer, known as 'Zodiac,' who haunted San Francisco during the late 1960s.
Fincher's film is an indepth presentation of true events that are excruciatingly detailed and painfully passionate. His attention to detail is so great that, if one listens closely, there is a scene with a reference to the then-forthcoming Rolling Stones free concert at the Altamont Speedway on the radio as Robert Graysmith (Jake Gylenhall) drives his son to school.
But, that is where the problem lies. Zodiac, with a runtime of 156 minutes can be very off-putting for people who aren't intensely interested in serial killers. But for those who have a fetish for CSI, Law and Order and unsolved intricate police procedures, Zodiac is quite the unsolved puzzle that you can't wait to put together.
The film opens with an aerial view of San Francisco on July 4, 1969. A young couple drives up to a secluded spot for a little privacy and the melancholic background score serves to soothe the lackadaisical atmosphere filled with crackling celebration fireworks. Just as things are getting cozy, BANG! We have a cold-blooded murder.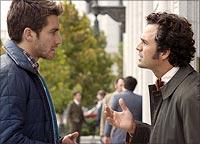 After this point, the film grips you with a grotesque gusto and we are hurriedly scuttled between the San Francisco Police Department (SFPD) and the offices of the San Francisco Chronicle, who receive cryptic, albeit bizarre ciphers from the Zodiac.
Almost immediately, we meet the colourful crime reporter Paul Avery (Robert Downey, Jr) followed by the mild-mannered newspaper cartoonist Robert Graysmith (Jake Gyllenhaal) and SFPD homicide Inspector David Toschi (Mark Ruffalo).
Soon, the three men become obsessed with cracking the Zodiac mystery and almost fanatically throw their lives into it for the next three odd decades.
Zodiac continues to taunt the press and police while Avery, Graysmith and Toschi follow every tip, lead and investigative hunch to nail the killer.
The provoking, almost hit and miss journey is a frustrating and nerve-wracking experience that the three protagonists pursue tirelessly. As times goes by, and leads go cold, the trio get consumed by the psychological warfare that the Zodiac wages.
After endless deadends, Graysmith manages to find a loner with a sketchy alibi (the spectacular John Carroll Lynch) who is a creepy movie enthusiast living over a Silence of the Lambs-like basement. Suddenly, it hits Graysmith that he may be standing face to face to the man known only, as 'The Zodiac'.
Fincher meticulously leads the audience over a decade of painfully detailed deadends but sustains an even keel of anxiety and maintains an atmosphere of methodical madness, one that he has perfected, with Se7en.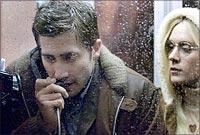 Ultimately, the chilling cat-and-mouse game takes its toll; Avery spirals into an abused life of deadly drugs and disillusionment and the resolute Graysmith throws his marriage to relentlessly pursue an extraordinary obsession with finishing a book chronicling the unsettled case (on which this film is based).
Nobody in their right minds will question Fincher's casting decisions in this one and there is an immensely talented and solid cast here, with Downey Jr, Gyllenhaal and Ruffalo leading a redoubtable list of supporting actors in the finest performances of their careers.
Fincher uses dozens of period pop tunes to help set the period (the opening and closing use of Donovan's Hurdy Gurdy Man is especially creepy) and the outstanding camera work by Harris Savides (shot on Digital) provides the film with a slightly faded appearance that is completely appropriate to the overall tone of the film. All in all Zodiac is violent, but artistic, detailed but not deviating.
However, at a runtime for 156 minutes, it's not everyone's cup of cappuccino.
Rediff Rating: