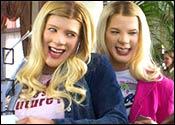 You may hurl insults at White Chicks. But the audience clearly enjoyed the film.
While many critics groan and wonder why they have to endure a film like this, the crass comedy could turn the box office green for two-three weeks.
There was plenty of good-natured laughter in the theatres on June 23, when the film opened to decidedly downbeat reviews.
Having said that, let's admit it: silly comedies do appeal. White Chicks' brand of comedy is crude, but funny. One-liners like 'Your mother is so dumb that she went to Dr Dre for a pap smear' could evoke a chuckle or two.
The story of White Chicks is attributed to three people (Wayans brothers) and its script to seven. What's going on?
What's hapenning is this: The Wayans Bros, whose best success so far is Scary Movie, offer an outrageous gimmick which is bolder than the one found in such films as Some Like It Hot. Here, two black FBI agents go undercover as white women. But the film remains mostly uninspired because, unlike the Austin Power movies where the tastelessness had teeth, this comedy cannot bite hard.
Exploiting gender and racial stereotypes ferociously, and winking at such hits as Tootsie, the new film tries to do many things without succeeding. It is a parody now, and a satire the next moment, a long running drag joke thereafter. And often mistaking speed and hysteria for comedy.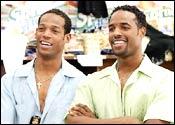 Kevin Copeland (Shawn Wayans) and Marcus Copeland (Marlon Wayans) are two hapless FBI agents who also happen to be brothers. While they have a strong talent for disguises, their arrest records stink.
Yet, their boss (Frankie Faison) asks them to bring in two socialites who are in deep trouble, Brittany Wilson (Maitland Ward) and Tiffany Wilson (Anne Dudek), to a weekend blowout. The dumb women have to be spirited away to foil a kidnap plot against them.
But crazy things happen on the way, and the sisters cannot make it to the rendezvous. The brothers are in deep trouble, and their careers could end when their ineptness is revealed. So they go undercover to the party pretending to be the Wilson girls, with the help of wigs, costumes, new accents, and, of course, paint. The two thin men are transformed – in a concept that is a more audacious one than in the Robin Williams hit comedy Mrs Doubtfire – into busty blondes.
At the party they have to deal with, among many things, several dumb blondes, including the sisters' rivals Heather and Megan Vandergeld (Jaime King and Brittany Daniel). The film's climactic scenes do not offer any surprises: you expect the real sisters to turn up, and when they do, there is more chaos and hysteria.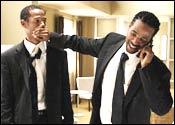 You should not expect strong performances in a film like this. Even then, Marlon Wayans, who plays the sprier brother, is quite a charm. Give him a better script and see him emerge as one of the finer comedy stars in Hollywood.
Another interesting performance comes from ex-NFL player Terry Crews, who plays with considerable enthusiasm and irony a rich black athlete with a passion for white women. Like several characters in the film, this one too is patterned after a living person.
CREDITS:
Cast: Shawn Wayans, Marlon Wayans, Jaime King, Frankie Faison, Maitland Ward and Anne Dudek
Direction: Keenen Ivory Wayans
Story: Keenen Ivory Wayans, Shawn Wayans, Marlon Wayans
Script: Keenen Ivory Wayans, Shawn Wayans, Marlon Wayans, Andy McElfresh, Michael Anthony Snowden, Xavier Cook
Rating: PG-13 for raw language and sex situations
Running time: 107 minutes
Distributed by: Columbia Pictures