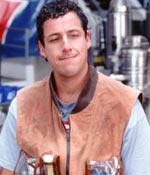 Among the many Adam Sandler hits, The Waterboy -- a rollicking comedy produced by Touchstone Pictures -- holds a special place. This is one of the first films that made him a star.
Sandler has certainly worked in better comedies but The Waterboy, which cost about $25 million, has become one of the more successful and endearing cult films, grossing over $225 million worldwide in 1998. (in today's dollars, it would be at least $350 million).
Now, the comic adventure is available in a smart Blu-ray edition for the first time. No surprise it is on its way to become one of the hottest selling Blu-ray editions in recent weeks. Compare this edition to the DVD you must have seen several times and you will find how sharper the images are. And the sound is clearer and stronger, too  Even though the Blu-ray version comes without a single extra, it is still an edition that needs to be seen in the environs of one's home.
Sandler is an actor who has a huge following, particularly in America but there are also some moviegoers who just cannot stand him. This football comedy is certainly not for them.
Though some critics dismissed the film as being inane, there were some who really liked it.
'The Waterboy, a Sandler vehicle that offers dumb fun without apology,' wrote Rolling Stone, also praising the other actors in the movie, especially the Oscar winner Kathy Bates, who plays the mother to Sandler's chracter and Henry Winkler as the coach who transforms the meek young man into a volcano.
Sandler plays Bobby Boucher, a little educated Louisiana mama's boy who ladles out 'quality H2O' to a college football team with enthusiasm even though the athletes treat him cheaply. When Coach Klein discovers that there is a trick to make Bobby angry, he starts using the trick at the service of the team. The meek Bobby becomes an agent of deliberate provocation. His new avatar is challenged by Vicki Vallencourt (a wonderful tease act by Fairuza Balk) who wants to seduce him.
Meanwhile Coach Klein has plans to recruit Bobby for the football team but his mother is against the idea. How Bobby surmounts each of his big problems is the crux of the film.
Director Frank Coraci keeps the action moving at a fast-pace. The film is a guilty pleasure, and it is more appealing in the Blu-ray version.
The film was rated PG-13 in America because of its crude humour and sexual references.