Sure, it's the A to Z of frivolous. Then again, Welcome proudly projects itself as a 'leave-your brains-behind' brand of cinema.

Who's complaining anyway? This one makes you scream. Both, with delight and disbelief.

While not exactly in the same league as the perennially funny Andaz Apna Apna or Hera Pheri, it definitely outshines writer/director Anees Bazmee's previous money-spinning comedy, No Entry, which found its bearing only towards the last 35 minutes.
Loosely inspired by the Hugh Grant caper, Mickey Blue Eyes, Welcome maintains a surprisingly drowsy momentum for its first 15 minutes. The gags don't work, the jokes fall flat and their timing doesn't click. Once, however, Bazmee has wrapped up the introduction scenes of all key characters, Welcome gets rolling.

And this is what it has to offer. A clean-living obsessed doctor (Paresh Rawal as Dr Ghungroo) on the look out for a suitable bride, hailing from a crime-free family, for his exemplary nephew, Rajiv (Akshay Kumar). Evidently there's no nice family in town and so Rajiv sticks to being an eligible bachelor for the time being. Till he bumps into the pretty 'n' perky Sanjana (Katrina Kaif).

Only Sanjana happens to be the darling sister of the 'control' seeking underworld don, Uday Shetty (Nana Patekar), inflicted with the Bollywood bug and his non-blood brother cum partner, Majnu Bhai (Anil Kapoor), also a wannabe painter.

Unlike the usual 'how dare you lay eyes on my kid sister?', the Don bhais are only too happy to get Rajiv's hand for Sanjana. Dr Ghungroo and his Bollywood-style ethics play spoilsports by acting as the proverbial 'kahani mein twist'.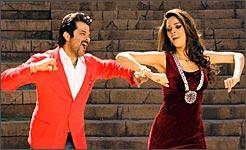 Unwilling to let go of Sanjana and unable to convince his uncle, Rajiv hatches a insane plot around Bhai1, 2 and 3, that promises to get him both the cake and its icing. Dare we forget, in Hindi films, especially the ones that intend to make you laugh, there's nothing more fallible as a cocksure hero and his so-called fool proof ideas.

The latest development in the mad and convoluted world of Welcome allows new characters like Ishika (Mallika Sherawat) and RDX (Feroz Khan) to pop up post-interval and contribute to the existent hullabaloo.  And the fun and games that follow hereafter is side-splitting to endure but impossible to explain.

Besides some nifty slapstick humour and rib-tickling absurdity, Welcome's biggest trump card is its flawless casting. Not an actor out of place. Be it Nana Patekar's mock earnestness towards his original profession (Watch out for the 57 retakes at horse-riding scene) or Vijay Raaz taking the make-believe role of a perfectionist filmmaker a tad too seriously, the eternally stylish (albeit under-utilised) Feroz Khan roaring 'Abhi main zinda hoon' or Paresh Rawal's seasoned spontaneity in conveying misery, Bazmee makes the best of what he has.

Anil Kapoor steals the show, once again proving his brilliance at the Tom 'n' Jerry game with his inimitable quips and priceless cues. Every scene featuring the actor, especially the ones where he paints or feels threatened, has the audience breaking into fits of hysterical laughter. What an entertainer!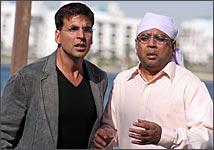 This is most certainly not an Akshay Kumar film. Here, his Rajiv is a non-geeky extension of his avatar in Jaan-E-Mann who is more occupied orchestrating all the buffoonery around him. Even so, the actor, now well-versed in comedy, does well for himself.

Sadly, the ladies are left behind in all the fun. Both Katrina Kaif and Mallika Sherawat are nothing more than glamourous props in the proceedings. There too, the dull score by Sajid Wajid, Himesh Reshammiya and Anand Raaj Anand hampers instead of helping their cause.

In complete contrast to the drab temperament of Welcome's soundtrack stands out its flamboyant dance numbers, including a sizzling item song by Malaika Arora, captured in Sanjay F Gupta's bright-coloured cinematography.

At the end of the day, it's the extraordinary camaraderie between the actors, completely consumed by the foolhardiness that surrounds them, that tickles the bone. And hard.

Rediff Rating: