The planet Earth, nearly 800 years in the future, as imagined by the wizards at Pixar, will be little more than a garbage dump. Early images of fog-curtained mountains and cloud-reaching skyscrapers, which are actually stacks of garbage piled high, provide chilling indictments of our consumerist culture. It becomes clear very quickly that WALL-E is not merely a children's cartoon designed to serve as a conduit to explosive sales of toys and collectibles.
Into this landscape rolls the titular character, a little trash compacting robot, whose name is actually an acronym for 'Waste Allocation Load Lifter-Earth-class'. The last of his species, he is also the only thing working on an Earth abandoned by humans when the planet grew incapable of sustaining them any more.
A creature of routine, his days consist of the aforementioned compacting and stacking, with little breaks to pick up curiosities as well as spare parts from the damaged bodies of robots like himself. His shelter is an abandoned vehicle which he has converted into a curio-filled home, and he shares it with his cockroach friend. He recharges by solar power and relaxes by watching a still-working video tape of the musical Hello, Dolly! before he powers down for the night.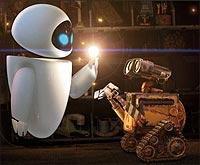 His routine life is changed forever when a spaceship drops off sleek and sexy EVE (Extraterrestrial Vegetation Evaluator) one morning. 'She' has been sent to Earth on a routine mission to check for vegetation. The hypothesis being that the planet will be considered habitable for humans again, the day it shows signs of being able to sustain vegetation. After a tense few moments of running for his survival from the trigger-happy EVE, they become friends and little WALL-E is besotted. He takes her home, shows her his most prized treasures, culminating with his presentation of the little sapling he discovered. Upon scanning the sapling, EVE takes possession of the proof that organic life exists again on Earth, powers down and awaits extraction.
Which is all very well except that WALL-E is a romantic, and as such, determined to interlock digits with his new female friend to profess his love for her in the way he's seen done, possibly a million times over, in the song It Only Takes A Moment. So love-struck WALL-E follows EVE into space and encounters a brand new set of adventures aboard the Axiom -- the giant spaceship where all of mankind has been housed for hundreds of years.
Before commenting on WALL-E, I have to give a shout-out to Presto – the short film that precedes the main feature. A brisk tale about a stage magician and the adorable rabbit he neglects to feed, this visual feast of razor-sharp gags and a fresh spin on the old 'pull a rabbit out of a hat' trick suitably confirms director Doug Sweetland's ability to fashion an animated tale. The colours, the moods and the to-and-fro between the magician and his star prop serve as a delightful appetiser before the feature presentation. Be sure to turn up well in time so that you don't miss this treat.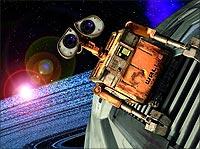 WALL-E itself is far more than a simple piece of mindless entertainment. With its beautifully rendered world and cheerfully choreographed sequences, it does serve its primary purpose of entertaining, but for those willing to burrow below the surface it offers so much more. As a cautionary tale as well as a celebration of old-fashioned love this movie succeeds without once overplaying its hand. Nothing is over-emphasised. No points are hammered home when a gentle nudge would just as easily suffice. And nothing succeeds quite like the appeal of the main character.
This industrious mechanical being that bears more than a passing resemblance to the shape of E.T. is the ultimate realisation of the modernised silent movie hero. In the complete devotion that he displays towards his job and the childlike interest he shows in curiosities like a Rubik's cube or a discarded brassiere, this animated character exhibits more soul than every single actor's performance committed to celluloid in this past season of Hollywood summer blockbusters. From his large binocular lens eyes to his trundling around on caterpillar treads this little rust bucket is a lovable loner you want to put your arms around.
When contrasted with the sleek, white and iMac-like EVE, WALL-E exemplifies the scruffy everyman who falls for a supermodel and will then follow her to the ends of the world. WALL-E is as close to cinematic perfection as any filmmaker has got recently and director Andrew Stanton's deft touch, which made Finding Nemo Pixar's most successful film to date, elevates this movie beyond mere entertainment. It becomes abundantly clear, after watching this film, why the filmmakers are going to be attempting to secure a Best Picture nomination for their film at the next Oscars.
Whether it wins or not, this film definitely deserves to be in that apex category.
Rediff Rating: