Benjamin Franklin Gates (Nicolas Cage) is back with one more treasure-seeking adventure before the original cinematic treasure-hunting legend Indiana Jones returns to the silver screen.
Those who watched the first National Treasure film probably remember that it was a fun-filled ride that took us through a maze of clues and gadgets (remember the multi-lense spectacles?) to uncover a treasure buried deep below where any man had gone in over a hundred years.
In this second outing, Gates sets off on a journey that begins with the quest to regain the honour of his family name after a stranger named Mitch Wilkinson (Ed Harris) offers dramatic evidence that one of Gates' ancestors might have been the mastermind behind the plot to assassinate former American President Abraham Lincoln.
Along the way he finds himself hunting for a lost city of gold. This city has been lost since before the end of the American Civil War and its existence was passed down through the generations as a whispered legend. Several men had tried and failed to find it.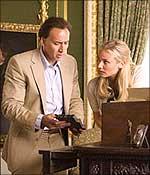 That's about all the setup this film needs.
Travelling from Washington DC to Paris to London and back to Washington before the big finish in the shadow of Mount Rushmore, this film offers many of the same attractions as its preceding film. Most of the cast from the earlier film returns, including Jon Voight as Benjamin's father, Diane Kruger as his love interest Abigail, Justin Bartha as his beleaguered assistant and Harvey Keitel as FBI agent Sadusky. The new addition to the family is Helen Mirren as Benjamin's mother.
In many ways National Treasure: Book Of Secrets plays out like a repeat ride on an exciting rollercoaster. It is still fun the second time around but with nowhere near the excitement and mystery that accompany a 'first time'.
There are car chases, attempts to steal rare documents from inaccessible places (Buckingham Palace and the Oval Office for example), a set of intricate clues that require a certain amount of globe-trotting and a final set-piece that begins with Benjamin setting fire to an oil pathway to illuminate an ancient hiding place in exactly the same way as he did in the first movie.
Also, on some level, this movie plays out like a feature film episode of Amazing Race which is also produced by Jerry Bruckheimer. Only difference is, sometimes, the television show is more exciting.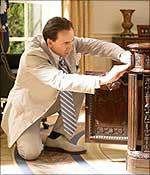 The performances are what one would expect from the actors -- Cage plays intense and righteous, Kruger plays pretty and exasperated, Bartha offers comic relief while Voight and Mirren offer an older version of the couple Benjamin and Abigail have become. Even Ed Harris plays a less-motivated version of Sean Bean from the first film.
The only impressive sequence in this entire film is the one that requires four people to use their weight to counterbalance a large wooden square perched atop a tall wooden column. You'll know it when you see it. It is a situation where you 'work together and live' or 'play hero and plummet to your death'. That sequence is the only one in the film that delivers genuine chills and thrills.
So overall, while the film is an enjoyable enough ride while one is watching it, it doesn't quite match up to the original film. Watch it only if you're totally starved for entertainment. Otherwise, it will be cheaper to rent on DVD.
Rediff Rating: