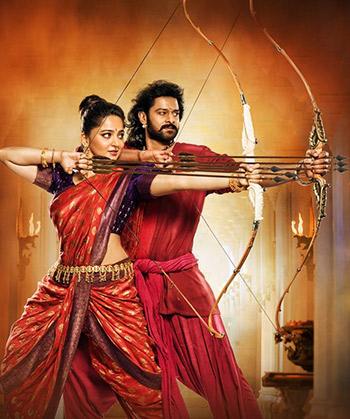 Syed Firdaus Ashraf gives his reasons for disliking the trailer of the most anticipated mega movie of the year, Baahubali: The Conclusion.
Indians are most passionate about discussing three things: Bollywood, Cricket and Politics.
But since 2016, when the first part of the film was released, everyone has gone crazy discussing why Kattapa killed Baahubali.
The mystery has kept movie lovers on tenterhooks ever since Baahubali: The Beginning released in July 2015.
So much so, even Prime Minister Narendra Modi mentioned Baahubali in his election rally in Uttar Pradesh!
Unfortunately, the trailer of Baahubali: The Conclusion disappoints and does not strike an emotional chord like the first one did.
To begin with, you can't make out the events being portrayed clearly because most of the scenes in the trailer look like a cut-paste job from the first part.
There is a lot of emphasis on VFX and grand scenes but not much importance seems to be given to the script or dialogue.
We see more of Prabhas, Anushka Shetty, Rana Daggubati and Ramya Krishnan than Satyaraj, who plays Kattapa.
Kattapa was the crux in Baahubali: The Beginning but his silence in the sequel's trailer makes you wonder about his character's portrayal.
The biggest suspense from in the first Baahubali, and the chief reason why audiences will turn up in big numbers to watch the sequel, is why the loyal Kattapa killed his master. But that aspect has barely been highlighted in the trailer.
One hopes the film will not disappoint as much as the trailer did.
We'll find out when Baahubali: The Conclusion releases on April 28.