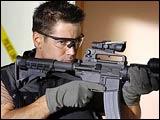 Had S.W.A.T arrived much before the likes of T3 and Bad Boys II saturated the market this summer with violent and glitzy fare, some of us would have found it entertaining and exciting.
Right now, it feels like a bloated film headlined by two talented actors Samuel L Jackson and Colin Farrell, who could have done better with a stronger and credible script. Also, we have seen them in too many films in the last two years.
They seem to have worked hard on the film that has several interesting special-effects driven sequences and a terrific rescue of mock hostages. But, on the whole, they cannot save the film which runs out of thrills. It does not connect emotionally too.
David Ayer (Training Day) and David McKenna (Dark Blue) have written more interesting, though far from brilliant, cop films before. Their work here seems to have been hijacked by high-tech filmmaking that leaves us numb after a while.
| | |
| --- | --- |
| | More on Rediff! |
| | |
All this does not mean that
S.W.A.T
will not reasonably open big but it is doubtful it has the muscles to flex at the box-office for many weeks and make it a super hit.
If you are not yet tired of seeing films with black and white cops bonding, loud soundtrack and intense violence and non-stop action, go for S.W.A.T. If you like to see menacing and ridiculous French villains, don't miss it.
The film revolves around veteran Los Angles police officer Don "Hondo" Harrelson (Jackson) and a young cop Jim Street (Farrell).
Street, a key component of Special Weapons and Tactics unit (S.W.A.T.) becomes a disgrace to the department when a mission he is very involved in is blown up. Predictably, he goes to the dog house.
Meanwhile, Hondo is putting together a new S.W.A.T. team, and you are not surprised to know that Street gets involved in it because of the faith Hondo has in him. The unit will also include LL Cool J and Michelle Rodriguez, a Latina cop.
| | |
| --- | --- |
| | Recent Hollywood thrillers |
| | |
Hondo and Street run into unexpected challenge when Alex Montel (Olivier Martinez), a French gang leader, comes to Los Angeles to kill a double-dealing relative, and gets nabbed by the police after a traffic accident.
Montel, who is high on the Interpol list, boldly offers $100 million to anyone who can facilitate his escape. As his television announcement draws in all kinds of adventurous people, S.W.A.T. team has ironically work hard to protect him.
Director Clark Johnson, a television veteran, has given the film plenty of energy and brightness but not much coherence or credibility.
The film creates a few genuine moments of excitement, suspense and tension but on the whole, like many summer movies, it leaves one wondering at the waste of talent and resources.
CREDITS

Cast:
Samuel L. Jackson, Colin Farrell, Michelle Rodriguez, LL Cool J, Olivier Martinez
Direction:
Clark Johnson
Written by:
David Ayer, David McKenna
Running time:
111 minutes
Rating:
PG-13 for violence, language and sexual situations
Released by
Columbia Pictures