Oh no, not another penguin movie. Haven't we done enough to the poor flippety-floppety flappers already? Earlier this year, we had The March of The Penguins where a documentary filmmaker spent a year shooting the film, and almost died in the process.
Then came the musical Happy Feet that packed in a social message as well.
But now, this penguin trend has become a yawn.
When one looks at the promos or packaging of Surf's Up, we are made to believe that it is yet another film about penguins on surfboards. But as the reels unfold and we are introduced to the icy world of Antarctica through a completely new mockumentary format, we realise that we aren't just watching a kiddy film about tappity feet -- this is a genuinely intelligent and funny film.
Directors Ash Brannon and Chris Buck play filmmakers (we can only hear their voices) filming surfer wannabe Cody Maverick (voiced by Shia LaBeouf), a young, overconfident penguin, as he prepares to go to the idyllic Pen Gu Island (like Pen-gu-in) for the Big Z Memorial Surf Off event.
We are told, through hilarious tongue-in-cheek interviews, how Cody has arrived at this day and about the surfing legend, Big Z. In a weird stroke of luck, Cody had already met Big Z as a kid where the latter told him to 'find a way' and 'never give up, cause that's what winners do.'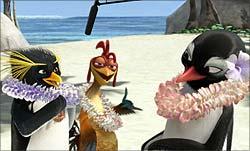 Cody harbours dreams of surfing in the big league someday, unaware that his guru, Big Z, died during daring surf off against the reigning surfing champ Tank Evans (voiced by Diedrich Bader).
Ten years later, a hyperactive marketing genius / talent-scouting sandpiper (Mario Cantone) arrives on Cody's small island and through sheer perseverance, Cody convinces him to let him on board. En route, to the championship Cody befriends an eternally stoned chicken, named Jo (Jon Heder), who is the strangest, comical character we've ever seen.
Soon, on Pen Gu Island, the arrogant Tan Evans puts Cody in his place on the very first day as he challenges him to surf off. Cody's spirit is smashed along with his head as he is knocked out and defeated. A cute lifeguard, (Zooey Deschanel) rescues him and has him peed upon by Geek, the village hermit.
Geek is a tired old cribby crabby, cranky and fat ascetic who lives in the forest. But, he's also an all-knowing surfing guru who guides Cody with the wisdom of the ages. The two develop an interesting love-hate mentor-pupil relationship. It turns out that 'Geek' is really Big Z who chose to disappear and give up instead of owning up to his loss.
Like last year's big hit Cars, Surf's Up also follows the out of action hotshot coaching the inexperienced new blood to win against all odds, understand the true value of life, and realise that winning isn't everything.
Surf's Up boasts of some really superior animation. It is widely known that water is one of the most difficult objects to animate and kudos to the team for capturing the surfing essence -- underwater shots of the surfers paddling, tube (a tunnel created by a huge wave) and kitschy shots of being tossed around in the water.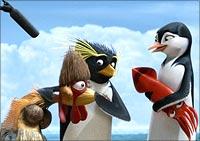 But Surf's Up is not without it's flaws.
This is not a kiddie movie. The witty humour and sports references are targeted to a very intelligent cinema /sports loving audience and several of the jokes would just bounce over young viewers.
Not many would catch the reference where Geek is basically the cartoon penguin version of Bridges' most famous role, The Dude from the 1998 hit film, The Big Lebowski.
Then, there are the cold jokes about Happy Feet as Cody tells the filmmakers that he can't sing and dance. And, of course, there is the perennially high Chicken Jo who won't win Role Model of the Year award at any children's festival.
Surf's Up has plenty of funny one-liners, emotional moments, and tongue-in-cheek repartees at televised sports and reality shows.
The 'archival footage' that is scratched and tinged yellow with a scruffy sound effects, is definitely something that will amuse you. Surf's Up offers a pleasant, satisfying mix -- even the ending is not 'filmi.'
And if it's a penguin movie that you want to see, this one is highly recommended.
So, what are you waiting for, Surf's Up.
Rediff Rating: