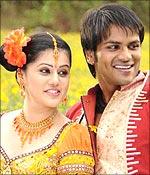 Radhika Rajamani reviews the Telugu film Jhummandi Naadam
The Telugu film Jhummandi Naadam is a quintessential K Raghavendra Rao (KRR) film with numerous song and dances filled with loads of colour, a pretty heroine (newcomer Taapsee), good music by M M Keeravani but a rather cliched storyline.
Manchu Lakshmi Prasanna produces this film which stars Mohan Babu (her father) and Manoj (her brother).
Balu (Manoj) is musically inclined since childhood and aspires to be a singer. On account of circumstances, he takes a vow to leave Bhadrachalam (his place of residence) and move to Hyderabad. There he gangs up with a few friends and forms a band. Balu has constant arguments with his neighbour Captain Rao (Mohan Babu) who dismisses the younger generation in terms of everything, while Balu constantly defends it.
Sravya (Tapsee) comes from the US to do a documentary on musical traditions of Andhra. She is Capt Rao's friend's (Suman and Pragati) daughter. Balu ensures that he is hired to help Sravya with her documentary. So all the fun-frolic, song-dance begins. Naturally cupid strikes between the two. But there's a hitch. Balu also gets a chance to participate in a music competition. His band is listed in the finals. But Capt Rao doesn't want him to befriend Sravya. There are attempts to thwart his music ambition...
This is a standard story. Director Raghavendra Rao tries to bring in some light-hearted moments with Brahmanandam, M S Narayana and Ali.
Since the tagline of the film is Music is life, the film is a musical to some extent filled as it is with quite a number of songs. The songs are in KRR's trademark style picturised against colour backdrops; one sees painted pots (KRR'S fetish) and vegetables, fruits and coconuts.
M M Keeravani tunes are varied in keeping with the story especially the documentary aspect. So he has composed folk, semi-classical and classical tunes. Some of the songs linger in the mind like Desamanthe... S Gopal Reddy translates KRR's vision on screen well.
If Manoj played a budding singer in Vedam, he reprises the role in Jhummandi Naadam. He's energetic and enthusiastic.
Debutante Taapsee makes for a pretty picture. She's shown beautifully -- another of KRR's forte as he makes his heroines look good. Here it's a mix of glam as well. She may improve her emotive skills in course of time. Mohan Babu as the stern Captain sails through his role with ease. The comedians ensure the humour without any difficulty.
In short, Jhummandi Naadam has a stereotypical story. View it if you are an avid watcher of KRR's films.
Rediff Rating: