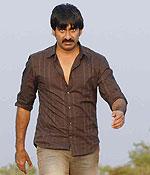 Sambho Siva Sambho is the Telugu remake of the Tamil hit Nadodigal -- a tale of friendship and sacrifice, rooted in realism, that had a good ensemble cast. Its fresh approach (though inspired by Subramaniapuram to some extent) was another highlight.
P Samuthirakani was asked to direct the Telugu version too but with a totally different cast barring Abhinaya. Essentially Samuthirakani crafts the same tale in Telugu and the film is largely similar to the original in terms of scenes though they are set in different locales. The Telugu version, somehow, lacks the zing of the orginal.
There are three main characters -- Karunakar (Ravi Teja), a history graduate who is trying for a government job as his uncle wants him to be a government officer before he can marry off his daughter (Priyamani) to him; Malli (Allari Naresh), who is applying for a passport; and Chandran (Siva Balaji) who wants to set up a computer business.
These three are thick friends and are happy drinking, spending time and life together. Malli is unlucky in love, while Chandran loves Karuna's sister Pavithra (Abhinaya).
Things take a turn when a friend (a politician's son) of Karuna comes into their lives. This fellow is in love with another rival politician's daughter and seeks Karuna's help. All the three friends swing into the act of getting these two secretly married as the parents are against the marriage. This journey turns out to be one hell of an escapade. In this adventure, the three friends aim to get the lovers together unmindful of the fact that Chandran loses his leg, Malli his hearing and Karuna gets injured. But there's something else which shakes them and their belief.
The story is filled with humour at least in the first half, while the second half turns a bit serious. The tale talks of steadfast friendship and projects what one can do for a friend. It could happen to anyone today and the director's take on this is pretty convincing. Of course Samuthirakani introduces an 'item number' (Roja), a leader who goes to any length to promote himself (Krishna Bhagavan) and the cliched angle of the parents' opposition to the marriage. But Samuthirakani has his story meandering in an interesting fashion.
Apart from the script, it's the artistes who lend buoyancy to the film. Raviteja, Naresh and Siva Balaji live their characters. Priyamani's character doesn't have much scope to perform but given the limitations, she does well. Abhinaya, the hearing impaired and mute girl reprises her role and looks fresh. Given some good roles, she has the talent to go ahead.
These kind of stories are well accepted and looked forward to in Tamil cinema. They need an audience open to experimentation. Unfortunately such an audience is present only in a very small percentage in Telugu cinema. More such stories have to come in Telugu to make the audience accept such kind of cinema.
All said and done, Nadodigal casting is somewhat fresh and the title (meaning nomads) also is more relevant than perhaps the Telugu title Sambho Siva Sambho. Samuthirakani has made something different but one wonders whether Sambho Siva Sambho will have the same impact that its Tamil counterpart had.
Rediff Rating: