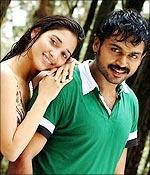 "Hundred journeys make a love story," triumphantly proclaims the audio cover of Thirrupathi Brothers Media Ltd's Tamil film titled Paiyya -- also a Lingusamy film. With Paruthiveeran's Karthi and Tamannaah teaming up for the peppy production, Yuvan Shankar Raja adds to the appeal by composing the music, while Na Muthukumar has penned the lyrics. Here's what the album has to offer.
Melodious guitar strings start Thuli Thuli, accompanied by a steady, casual background rhythm, while Haricharan and Tanvi pitch in with the vocals. Sometimes you're reminded of old Yuvan classics from say, Manmadhan, but you can feel the effort the composer's taken to dispel the feeling in the charanam. The refrain plays a good part in that notion and you keep going back to classic ABBA hits. But parts of the song descend into mediocrity and that rather destroys the euphoric highs. The lyrics too, are run-of-the-mill romantic; nothing out of the ordinary.
Heavy, crashing synthesized music bursts through your ears while Benny Dayal's voice acts as a marked contrast, perhaps in keeping with the words Poongatre Poongatre, echoing with 80s disco beats, especially in the interlude towards the charanam. The instrumental arrangement attempts to be varied and rousing. But ends up sounding more like a mash-up of Harris Jeyaraj hits.
What sounds like a pseudo-rural instrumental arrangement kicks off Adada Mazhaida, rendered by Rahul Nambiar and Saindhavi. You soon realise that's exactly what this is: a so-called folksy number set to a suitably western beat, at least in the first half. Some time later, ethnic percussion takes over, but the song keeps reminding you of another Yuvan number, Sakka Podu Pottane from Das. And though the rhythm as well as flute interlude are soothing, you wish that it had traveled in newer directions especially the lyrics which are all about the various attractions of the girl.
Karthik and Sunitha Sarathy sing Suthude Suthude which again, falls into Yuvan's usual template of romantic/anguish songs. The background instrumental arrangement adds some variation to an otherwise dull number.
It's become the norm in Yuvan's albums to contribute at least one number in his own nasal voice and so we have En Kadhal Solla. The piano notes in the background are appealing, and oh, wonder! He's used the Titanic's music as his muse in the interlude. This number scores slightly over the previous ones in term of instrumental arrangement, but otherwise, it's more or less run-of-the-mill.
Yuvan Shankar Raja is one of those composers who, even at his uninspired best, manages to sound better than most other composers. But you really want him to get into groove pretty soon. Or perhaps it was just the project that wasn't very inspiring. We'll have to wait until the movie itself to find out. Meantime, barring one or two moments, this collection isn't really his best.
Rediff Rating: