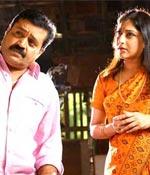 Paresh C Palicha reviews the Malayalam movie, Sahasram. Post YOUR reviews here!

Sahasram directed by Dr S Janardhanan (of Mahasamudram fame) with Suresh Gopi in the lead is a story of a traditional Mana on the verge of being demolished. The site also happens to be the filming location of a horror movie.

A murder takes place on the sets of the movie and police officer Vishnu (Suresh Gopi) is called to catch the culprit. The victim is a lecherous actor (Suresh Krishna) who specialises in playing negative characters. 

As Vishnu tries to solve the murder, events go haywire. Surprisingly, there is only one suspect in the form of an art director who is addicted to drugs (Bala). 
There are lots of familiar elements and story telling techniques employed to keep us intrigued. However, Janardhanan's efforts to keep interesting events coming up incessantly does make our minds go numb after a while.

Suresh Gopi, who has done similar characters many times, still injects some ingenuity in his performance. There are many characters like Lakshmi Gopalaswami who plays a psychiatrist and Sandhya, a young starlet, who come and go, but hardly anyone leaves an impact.
In the final analysis we can say that Janaradhanan puts in a lot of effort but fails to give us an interesting story.
Rediff Rating: