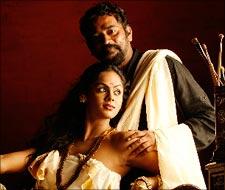 Paresh C Palicha feels that over all Makara Manju is watchable. Post YOUR reviews here!
The relation between creativity and the muse is the theme explored by director Lenin Rajendran in his new film Makara Manju (The Mist of Capricorn). It is inspired by the life of renowned painter Raja Ravi Varma, who is known for his photographic portraits, most particularly of women.
World renowned cinematographer Santhosh Sivan plays the lead role, which explains why the film was in the news since its inception.
It begins well with the director establishing what a perfectionist the painter is by showing him adjusting a mirror so as to get the sunlight falling on a model at just the right angle.
It goes on to show how he responds to the accusation that he is following the European style of pictorial portraiture and ignoring traditional Indian styles.
His wife (Lakshmi Sharma) bickers about his nomadic lifestyle and his lack of concern for his wife and young children. He tells her that if he takes her with him, she would kill every female model of his, like Goddess Kali. Then we are shown the story of a servant girl (Nithya Menon) who was the model for one of his award-winning paintings and was found murdered when their clandestine meetings came to light, ruining his happiness.
But the crux of the film comes only halfway through, when the painter gets inspired by a nautch girl Sughanda Bai (Karthika Nair) and starts to paint a semi-nude portrait of her. When she becomes aware of this, she reprimands him for his vulgar intentions and refuses to be a party to it. He pleads with her to listen to the story that inspired him to make such a picture and starts narrating the story of the mythological King Pururavas and his love for the nymph Urvashi.
Now we see both the stories--that of the king and the nymph, and that of the artist and his muse--progressing parallel to each other with the actors switching characters. It's not difficult to guess that both couples are headed for doom. But, it is not that easy to grasp the intricacies and the subtext in the narrative.
Madhu Ambat's camera work is top notch. So is the art direction by Gokuldas with candle-stands and furniture from the past creating the right milieu. One just wishes that the plot was a little more accessible.
Performance-wise, Santhosh Sivan's soft looks do not match the raspy baritone of Biju Menon, who has dubbed for him. This mars Sivan's work. The same applies to Karthika's acting. The other two ladies, Nithya Menon and Lakshmi Sharma, have limited screen time.
In the end, Lenin Rajendran's Makara Manju is watchable but you have to brush up your knowledge of mythology and history to fully appreciate it.

Rediff Rating: