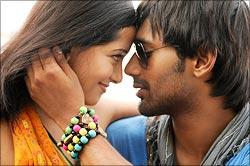 Radhika Rajamani feels Telugu film Priyudu has some decent performances from its lead pair.
Sraavan directs his first film,
Priyudu,
a love story which begins in a satisfactory fashion, but somehow peters out in the second half due to unnecessary complications in the plot that defy logic and reason.
There are the customary half-a-dozen songs, some fights, and inane humour that has no link at all to the story.
Priyudu
is a story of a boy Karthik (Varun Sandesh) who doesn't believe in love, and Madhu Latha (debutante Preetika Rao), who does. Haven't we seen umpteen stories like that before? She falls in love with him and Karthik agrees to the match because their fathers (Karthik's father played by Nasser and Madhu Latha's father played by Kashi Vishwanath) are friends!
Though Karthik agrees to the engagement he has various plans up his sleeve. He brings in Vara Prasad (Randheer) to woo Madhu. Vara Prasad is supposed to provide the humour, but it is totally without logic. Shwetha Basu Prasad comes and goes with nothing much to do. The plot meanders with complications till it reaches the predictable end.
Sraavan gives us a fairly decent first half but the tempo lags in the emotion heavy
second half. The heroine's role is a substantial one but it's hard to believe that you would find such a
sati savitri
type of woman today. The film could well have done without comedian Ali (in different Baba avatars). And there are quite a few scenes that are unbelievable like Madhu confessing her love for Karthik in front of both the families, her coffee scene etc.
 Varun Sandesh delivers a good performance. Such lover boy roles come easily and naturally to him. His Telugu, too, has certainly improved with less of the American twang.
Debutante Preetika makes a convincing and impressive debut with the necessary confidence, acting skills and oomph factor. She's sure to go a long way in films.
Randheer plays his part well. The rest of the cast--Kota Srinivasa Rao (uncle of Karthik), Nasser, Kashi Vishwanath, Pragathi (Karthik's mother), Surekha Vani (Madhu Latha's mother)--perform what is expected of them.
Tagobothu Ramesh is getting stuck in the same role and it's getting a little tedious to see him. Kishore tries to induce a few laughs, though inane.
Priyudu'
s storyline is not in sync with contemporary times, but it can be watched for the performances of Varun and Preetika.
Rediff Rating
: