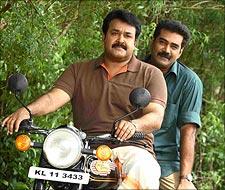 Paresh C Palicha feels that Snehaveedu is a feel good movie.
Post YOUR reviews here!

Film-maker Sathyan Anthikad is at his best when telling stories he is familiar with. He also likes to repeat his actors and give them the same characters we have seen them portray before. Snehaveedu, his 51st movie as director, and Mohanlal's 300th film as actor, can boast of nothing new. Yet it is a pleasant experience while it lasts.
Mohanlal plays Ajayan, who has made a fortune working outside the state of Kerala and invested it in buying farm land back home. He is still single and his mother, Ammukutty Amma (Sheela), is his only known relative. His justification for staying single is to give his undivided love to his mother.
There are other familiar people surrounding the mother-son duo. Sunandha (Padmapriya), the leading lady, is an older, single woman who works in a government-run soap-making unit, but there is no romance between them.
Innocent and KPAC Lalitha are their Christian neighbours. Their elder daughter (Lena) has eloped with Balan (Biju Menon), a very dear friend of Ajayan, who is now a police officer.
Ajayan has light-heartedly spread stories of having a colourful past. This innocent lie comes to haunt him when a teenager named Karthik (newcomer Rahul Pillai) appears and claims he is Ajayan's son from Chennai. The havoc this creates in Ajayan's life and the trouble he takes to prove his innocence is what the narrative is mostly about.
Mohanlal takes to the character of Ajayan as a fish to water. He plays his age and is remarkably good in the scenes where he has been shown as the guy who has goofed up.
Sheela as the ageing matriarch of the house with only one regret-- that her son is still unmarried--has her charms.
The rest of the ensemble cast, including Padmapriya, have their moments, but one feels sorry that Padmapriya does not have anything substantial to contribute to the plot.
Rahul Pillai, who makes his début in this film, looks like a younger version of Tamil actor Dhanush. He is even presented as the silent, brooding character that Dhanush portrayed in the beginning of his career.
Biju Menon, who has hit good times recently in supporting roles, continues his good form here.
In the final analysis, Sathyan Anthikad mixes and matches his recent successful films like Manassinakare, Rasthanthram and even Achuvinte Amma to make Snehaveedu, which leaves his fans with little to complain about.
Rediff Rating: