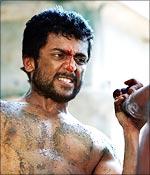 Pavithra Srinivasan reviews Ratha Sarithram. Post YOUR reviews here!

One thing is for certain: the title Ratha Sarithram (Bloody History) is completely justified for this Cloud Nine presentation, directed by Ram Gopal Varma. Every 10 seconds men simply bash each other up, sweep necks with scythes or shoot random men, resulting in liberal splashes of red, entrails strewn all over the place and lifeless eyes littering the street.

It's definitely not meant for family audiences.

Fortunately, there's something of an actual story behind all the gore and general mayhem, which means you can sit through the first part, anyway.

The film begins with a short recap of the first film, which saw the rise of Pratap Ravi (Vivek Oberoi). He vanquishes the killers of his father Veerabadriah (Rajendra Gupta) and brother and swiftly ascends the political ranks in Anandapuram, to become actor-turned-politician Sivaraj's (Shatrugan Sinha) second in command and chief aide.
Life's not a bed of roses, naturally; his way up involves, literally, slicing up all opposition in a way that would make Quentin Tarantino proud.
A man who lives by the sword must eventually face the consequences. When it looks like Pratap Ravi has claimed his position as a minister, nemesis arrives in the form of Surya (Suriya), the son of Narasimha Reddy (Kitty), one of the men Pratap first killed. He first pops up on the radar with a car bomb, with the intent of destroying the one who massacred his family.
His wife Bhavani (Priya Mani) and young child are in as much danger as he is, which pushes Surya to accept DCP Mohan Prasad's (Sudeep) offer to surrender. But the war has only just begun.
For starters, Vivek Oberoi and Suriya fit their characters so perfectly that you're able to devote your entire attention to them. That pretty much seems to have been RGV's point as well: so many of cinematographer Amol Rathod's shots focus on extreme close-ups of the two; you can almost count every individual eyelash. That's not such a bad thing when the actors in question can actually act. But such extreme focus on every muscle twitch, and bizarre 360 degree turns can literally give you a headache.
RGV's fascination with Suriya has also resulted in a macho fight sequence, which the actor seems to have done full justice to. Of the two, Suriya has the more scope, and delivers the goods, right down to the knowing smirk in the final scene.
Priya Mani and Radhika Apte fit their roles well too, while Sudeep stylishly lights up cigarettes (and that pretty much ends his role). The rest add colour to the background.
The story itself is a very straightforward revenge drama with no twists and turns: generation after generation simply cleaves one another in an endless thirst for power, common sense and reason notwithstanding. There's a certain appeal in the madness that appeals such actions, and you can taste the desperation of the characters as each of them strives to be the last man standing. But too much of the same sequences lead to tedium.
It doesn't help, though, when the dialogues are extremely clunky, repeated again and again, and delivered so slowly that everyone begins to yawn. Revenge dramas aren't exactly new in recent times, and a swifter pace would have added to the movie.
Not to mention Dharam-Sandeep's music, which practically crash-bangs through your ear-drums. The other monkey-wrench that hampers the movie is the reiteration that the story happens in Tamil Nadu, something the makers could have avoided, as neither the characters nor dialogues resonate with Tamil Nadu anyway.
Ratha Sarithram seems to have a lot of things going for it, including charismatic actors and dramatic possibilities. Unfortunately, it doesn't really capitalise on those strengths.
Rediff Rating: