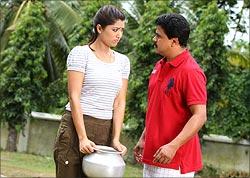 Paresh C Palicha says My Boss hugely depends on Dileep's loud comedy.
Gender wars have always been a fertile ground for humour. But the game of one-upmanship between the sexes is sometimes tedious and unacceptable as in director Jeethu Joseph's latest Malayalam film
My Boss
starring Dileep and Mamta Mohandas.
The film is a copy of the Hollywood film
The Proposal
(2009) that had Sandra Bullock and Ryan Reynolds in the lead.
Manu Varma (Dileep) lands in Mumbai to join an IT firm as executive assistant to Priya Nair (Mamta Mohandas).

He has a B Tech degree but no work experience. He is obviously over-qualified for the job and when asked about it he says it's because of family issues.

Manu's boss Priya is a witch of a woman, an Australian citizen. She abuses her subordinates verbally and pulls them up for the slightest mistake. Manu Varma works his heart out for three months under his cruel boss.

There is much slapstick as well as verbal comedy (the standard of which is better not described). Dileep is ably supported by Kalabhavan Shajon who plays an 'all in one' errand boy, Ali.

Manu gets his chance to hit back at his boss when she has visa issues and is expecting a promotion to company head.

Priya cooks up a story that she is having an affair with Manu and they will soon be married. They have to act the part convincingly. Manu takes his bride-to-be to his home in God's Own Country. There it is revealed that he is super rich with a palatial home and acres of farmland, a loving mother and doting grandmother.

He had left home because he had issues with his father played by Saikumar, who was against Manu seeking a job and wanting to migrate to a western country.

Again, lots of humorous situations pop up mostly inspired by the Priyadarshan classic Chithram (1988) as the lead pair play at being husband and wife.

This film hugely depends on Dileep's loud comedy. At first it looks like we may be lucky enough to see a sobered version of the actor but that idea is soon blown to pieces.

Mamta Mohandas tries hard to match Dileep by using abusive English and calling her co-workers animal names. But she looks lost most of the time.

Kalabhavan Shajon has been assigned the role of a sidekick that does not demand much. The surprise element is Saikumar who enacts some lighter moments rather well.

My Boss is the gender war played at ear-splitting volume.

Rediff Rating: