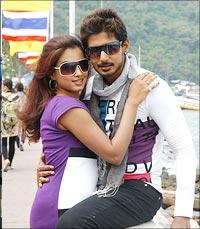 Shruti Indira Lakshminarayana reviews the Kannada film, Kote. Post YOUR reviews here!


After
Nannavanu
, director Sreenivas Raju and actor Prajwal team up again for
Kote
, an action packed film.
Vigneesh is the name of our leading man, Prajwal, in the film and as the name itself suggests, he is the solution to all problems. Vigneesh shifts to Hubli following his father's transfer. The young man aspires to be a cop and even makes it to the police force. He is fearless and intends to rid the city of its goons.
The question is, why then is he pally with Katari, who is considered a terror in Hubli? What's stopping our hero from curbing Katari's atrocities despite having power? Is it the death of a senior police officer who is killed in broad day light after he tried to bring Katari to book, or is it the lure of the  cash laden suitcase that Katari offers him? Vignesh also has a family to care of. So will he put society's cause before his family's?
The film opens with a blood drenched fight sequence and that sets
the tone for the action packed film.
Kote
is laden with sermons about how people should stand up against injustice.
The story, of course has enough scope for family ideologies and romance. There are, in fact two women romancing the hero. Whom he takes to be his loyally wedded wife forms the other part of the story.
Prajwal has evolved as an actor. He has pumped up for the role and looks comfortable in his first cop role, a part that his father and actor Devraj often played on screen. His killer looks are enough to scare the life out of hefty henchmen. He even rants punch Hindi dialogues fluently in the film. Ravishankar as Katari gets substantial screen space in his first Kannada film. Heroines Dimple Chopde and Gayathri Rao, however, have little to do.
Music by Raghu Dixit is lacking ion magic this time. Despite having some of the industry's best lyricists on board, words also fail to move you. The dialogues, however, are impactful.    
Tough cops and their fight against social evils has been dealt before but the film is definitely a better outcome than
Nannavanu
.
Rediff Rating: