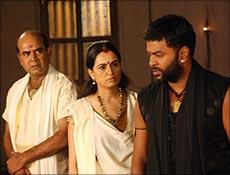 Paresh C Palicha feels Karmayogi is a good experiment by director V K Praksh.
Karmayogi
is V K Praksh's adaptation of William Shakespeare's tragedy,
Hamlet
. But someone who is not familiar with the original text can also enjoy the film. A voice over tell us that this story is adapted from the myth of the Yogi clan of north Kerala, believed to be the descendants of Lord Shiva.
Rudran (Indrajith) is unhappy that his mother Mankamma (Padmini Kolhapure) has married her husband's younger brother shortly after her husband's demise. Rudran also suspects that his father's death was due to foul play and believes his uncle Bhairavan (Thalaivasal Vijay) to be the culprit.
As the story moves forward, we see the misunderstandings and schemings by the characters coming to the fore.
The adaptation by Balram Mattannur stays honest to the original
text with twists and turns happening at regular intervals. Bhairavan schemes to protect himself from the wrath of his nephew-cum-stepson. Rudran delays his revenge as he feels that it is not right to kill him by deceit and that the world should be made aware of his uncle's crime and the reason why he deserves to die.
The glitch is that the director seems to be confused about the form he should adopt to narrate the story: theatrical or realistic. In some parts that actors adopt a realist style while in others they are very physical and expressive as if they are performing on the stage, especially the characters played by Thalaivasal Vijay and Nithya Menon, who is Rudran's love interest.
Indrajith's performance is consistent throughout. The supporting cast is headed by Ashokan and Shaiju Kurupu whose performances linger in our minds.
Karmayogi
can be appreciated as a good experiment.
Rediff Rating: