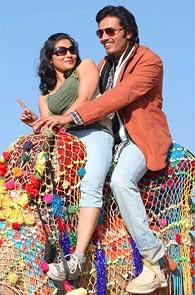 Paresh C Palicha says director Jayraj's Camel Safari fails to connect with the youth at whom it was aimed to.

Director Jayaraj has tried to connect with younger viewers many times in the last few years with disastrous results.

The veteran film maker has another go at it in Camel Safari, set in Rajasthan, with a bunch of fresh youngsters.

The director has said this is an unconventional love story since it is the girl who woos the guy. It is set against the backdrop of the famous Pushkar camel fair. Both elements should have made the film interesting.

Instead, the cinematography and performances are lacklustre, the story dull and even the charm of the beautiful setting cannot lift the film.

JK (DJ Shekhar), a part-time disc jockey narrates the story of his gang who are studying for their MBA in Mangalore. All five are from different regions and of different faiths. The friends are a problem for the college, especially the principal Fr. Mathew (Tini Tom).

They ask for permission to visit Rajasthan to attend the wedding of the sister of one of them, and the principal agrees on the condition that they take this tour as a "project".
We are left scratching our heads wondering what kind of project a Rajasthani wedding can be, until it is revealed that managing the wedding is the project.
More shocks are in store. One innovation that the gang thinks up is the menu; they plan an exotic menu from roadside toddy shops in Kerala. They even import a worker from one of these shops who does not know Hindi, giving rise to situations reminiscent of Jagathy Sreekumar in
Kilukkam
(1991), but it is done in poor taste.
It would be better not to dwell on the main plot as it would be unfair to the actors who are newcomers. All they are made to do is sashay across the screen as if they are part of a fashion show and not characters that are part of a story.
Every time director Jayaraaj comes out with a new film these days, we hope that he will bounce back, but he finds a new low and
Camel Safari
is an addition to that.
Rediff Rating: