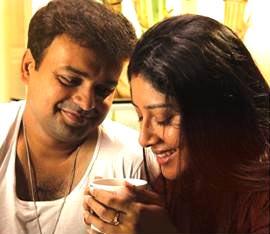 "This narration is done in a cut-and-paste manner, with lots of loose ends" says Paresh C Palicha about the Malayalam film God for Sale: Daivam Vilppanakku.

Writer-director Babu Janardhanan, who makes socially relevant films, makes a dig at every organised religion and political ideology in his new film God for Sale: Daivam Vilppanakku, with Kunchacko Bobanand Jyothi Krishna in the lead.

The director does this through the story of a young man who seems to be undecided about his faith or beliefs, and suffers a mental condition bordering on schizophrenia. The handling of the subject is so shabby that the viewer feels disoriented by the time the film gets over.

The film opens with a godman (Kunchacko Boban) who is accused of human sacrifice. He is made to undergo what looks like a lie dictator test, and he goes into flashback.

The godman's elder brother, played by Suraj Venjaramoodu, talks about him to a panel. And, we piece together his life without getting emotionally attached or even feeling any empathy for him.

The godman is actually Prasannan Nair who was born of an extra-marital affair his mother had with a godman. Her husband had committed suicide when he came to know of the affair. Prasannan thus had no father in his life and this has its repercussions throughout his life.

Poverty is another thing that bothered him. In his youth he was a staunch Hindu. He then followed the Leftist ideology and later converted to Christianity before ending up in a mental asylum. He then reappears as the Godman.

This narration is done in a cut-and-paste manner, with lots of loose ends. Jyothi Krishnan and Anumol play two women whose lives are virtually ruined by Prasannan.

We know that there are bad elements in every section of society and religion. But, there is a way of conveying that. The way adopted by Babu Janardhanan is crass, to say the least.
Rediff Rating: