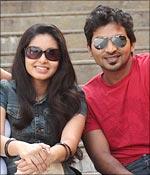 Pavithra Srinivasan reviews the Tamil music album, Eesan. Post YOUR reviews here!



Ever since Subramaniyapuram broke through the charts and claimed numero uno position two years ago, expectations have been sky high, as Company Productions returns with Eesan, written and directed by M Sasikumar.

With James Vasanthan tuning the songs and a variety of lyricists pitching in, here's a listen at the what the album has to offer:

Meyyana Inbam, with Sukhwinder Singh, Benny Dayal and Sunandan certainly kicks off on a very intriguing note. The tune swings from the vaguely familiar, to uncharted territory, especially the second interlude and skates close to choir music. The philosophical lyrics add to the unearthly flavour, of course. It has its moments of bizarre appeal.

Jilla Vittu begins on an ethnic note, with a few amusing "practice" notes, and there's something about Thanjai Selvi's voice that takes in the melody with minimum effort and weaves a comfortable song. Mohan Raja's lyrics themselves touch on the emotions of women who trust implicitly, their terrible plight when led astray, of men who will simply cannot stand up to their obligations, and the instrumental medley, mild and steady, plays neat accompaniment to it. This one's a familiar, yet soothing number.

Benny Dayal and Gerard Thomson kick off Get Ready in style, a fusion of classical and western, with guitars and synthesized music backing them up. Na Muthukumar's lyrics are typically enthusiastic. The second interlude brings a sudden, welcome lull, before launching into sound and fury, again. The tune itself isn't exactly new; it's the rhythm here that carries the song.
An appealing medley of piano notes and the flute that carry a faint whiff of Irish music signal the beginning of Kannil Anbai, even as Padmanabhan renders the romantic number, which, in the first interlude, slips into acknowledge filmi rustic mode. It's the mandatory love song but fails to carry the appeal of the first moments throughout.
The strident notes of Malgudi Shubha and K S Chitra pick up the vocal reigns for Sugavasi, which seems to take place in the album as the kuthu number, albeit with slightly different notes. To Yugabharathi's credit, he does try to bring something new to the regular sensual word-display. The tune itself, while skating comfortable lines, isn't exactly new.
Eesan seems to have the usual collection of kuthu, romantic and energising songs, but there's nothing that scales the heights of musical brilliance.
Rediff Rating: