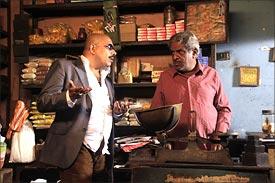 Srikanth Srinivasa says Bharath Stores is an educative film about the plight of petty shops as organised retail business and the impending FDI in retail take over.


Director P Sheshadri has chosen to portray the impact of organised retail trade on petty shops and small kirana stores. With the Indian government opening its doors to foreign direct investment in retail, the director has tried to present the pros and cons of the decision that may affect small traders, without trying to be too judgmental.


The film starts with the arrival of NRI Bharathi (Sudha Rani) with her techie husband Sharath (Chi Gurudatt) to Bangalore from the US after nine years. The director narrates the changing face of Bangalore through Bharathi--the new international airport, the stretch leading to the airport, the metro rail line and the new skyline of the technopolis amidst the chaotic traffic.


Govinda Shetty (Dattatreya) runs a grocery shop, Bharath Stores, in a middle-class locality of Bangalore. He has a humane approach to his business. He has customers from before the supermarkets or the big marts entered the locality. But after that, his future is bleak--he has to sack his helpers as also face problems in his family.


Bharathi wants to pay back Govinda Shetty the loan that her father had taken for her wedding. She has a tough time finding Shetty's whereabouts as the grocery shop he ran is closed. She finally traces him to an old age home with the help of one of his old time employees.
Dattatreya comes up with a brilliant performance which is the soul of the film and he rightly deserves the special mention at the National Awards. This is the third time his work is being recognised by the national jury.


Sudha Rani who plays a leading role after a long time, is impressive. Chi Gurudatt and V Manohar are adequate in their brief roles.
Mahendra Simha's camera work is quite good.


Director Sheshadri has chosen the right subject at the right time. Bharath Stores won the National Award for best regional film and for best director, Sheshadri's seventh truly deserving award.


Sheshadri has also scripted the story. He has tried to glorify the kirana store owner as the friendly, honest neighbourhood businessman. The big marts are shown as not having any personal interaction with their customers.


It's a uni-dimensional story and just scratches the surface of the problem though it is a sincere effort in focusing on a topical subject.


Rediff Rating: