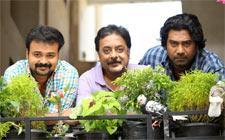 3 Dots held a lot of promise coming from the winning team of Ordinary but couldn't stay up to the expectation.
Director Sugeeth, who made a successful début last year with Ordinary, which threw up the interesting combination of Biju Menon and Kunchacko Boban, has repeated them in his new film 3 Dots. He has also added veteran Prathap Pothan to the successful combo.
3 Dots tells the story of three criminals who are trying to rebuild their lives after serving a jail term. Vishnu (Kunchacko Boban) was a petty thief, Louis (Biju Menon) was a goon and had stabbed a man, and Pappan (Prathap Pothan) had swindled money from the bank he was employed in, for a lady with whom he was having an extra-marital affair.
They live together in Pappan's apartment after their release. After many unsuccessful efforts to find employment, they appeal to Dr Isaac (Narein), who was a counsellor in the prison. He suggests that they consider some form of self-employment and he will support them.
Vishnu converts Pappan's Omni into an ambulance. Pappan runs a playschool and Louis works for a driving school run by a neighbour, Grace (Anjana Menon), a widow. The heroes even find someone to romance.
The film progresses on predictable lines, depending heavily on comedy, mostly of the Biju Menon kind (crude with lopsided one-liners),making us wonder where this lengthy enterprise is headed. These days no film runs for two hours and forty minutes as this one does.
So, when the real twist happens it feels a bit late in the day, so to speak. Narein looks too suave and smooth to turn into a menacing villain and does not look convincing at all. In the end, it is very easy for the good guys to turn the tables on him.
It is high time Biju Menon rediscovered himself; most directors are milking him while he is having a good run.
Kunchacko Boban is in his groove with his sheepish comedy and being a foil for Biju Menon. Only Prathap Pothan gets to do something substantial here; maybe because he is new in the team and the think tank behind this film has put some thought into creating his character.
3 Dots held a lot of promise coming from the winning team of Ordinary, but this film turns out to be less than ordinary.
Rediff Rating: