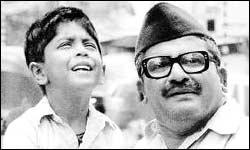 A
grandfather helps his grandson come to terms with his inevitable blindness. In a typical Bollywood film, this would lead to painful, handkerchief-demanding melodrama.
Refreshingly, in Sandeep Sawant's debut feature, Shwaas, he hasn't allowed Bollywood stereotypes to get in the way of good storytelling -- a style that comes easily to him after his long theatrical innings.
"When I read it, I knew I had to make this movie," says Sawant, referring to the Madhavi Gharpure short story inspired by a true incident in Pune, 12 years ago.
A villager (Arun Nalawade) brings grandson Paarsha (Ashwin Chitale, in a National Award-winning role) to a town doctor (Sandeep Kulkarni) only to learn that the child is a one-in-a-million victim of the rare retinoblastoma -- a rare retinal cancer. The operation will save his life but leave him blind.
With social worker Asawari's (Amruta Subhash) sympathetic assistance, the tottering grandfather steadies himself, and supports the child through it all.

In a scene that lingers long after the film ends, the doctor is forced to accept responsibility for explaining to the child that he is to lose his eyes. We accompany him through the hospital rounds, waiting for doctors, certificates, tests, scans, results and watch the child's tantrums when the operation is postponed.

And just when you think the narrative is moving to the tear ducts, suddenly the grandfather goes missing from the hospital: Taking along little Paarsha on a pleasure trip through a park, a fair and a temple, showing him sights he will never see again.

But the panic in the hospital over the missing patient bursts into comedy, when nobody wants to take responsibility, and newshounds sniff, hoping for scandal. The enraged doctor later understands what prompted grandpa's "irresponsible behaviour." The rustic grandfather's moving simplicity is contrasted with the urbane doctor restraining himself instead of reaching out to his patient or his grandfather, visibly embarrassed at times.

After watching the film, the first thing I realised was the pin-drop silence among the audience as they filed out, an obvious hangover of the moving docudrama.
Excellent performances by the whole team stand out, especially as the camera shuns slickness and sentimentality.
The child's spontaneity is amazing. Some flashbacks which follow routine tracks contrasting past joys with present tragedy could have been avoided, and the music could have been better, but the script knows the power of silence and stillness, keeping you bound to your seat.
Considering that the film was made on a modest, Rs 60 lakh budget (raised with great difficulty by Sawant and six of his friends) has turned out to be such a remarkable effort, merely places the achievement in deserved perspective.

Marathi cinema has always been a cradle to Indian cinema, from legends like Dadasaheb Phalke and V Shantaram to intellectual creators like Vijaya Mehta and Amol Palekar. But, of late, except for notable exceptions like Smita Talwalkar (Kalat Nakalat /Tu Tithey Mee), and Sanjay Rawal (Vazir), it seemed like the era of good Marathi films was over.
Now that Shwaas has won the National Award for best film (50 years after Shyamchi Aai) and is the official Indian entry for the Academy Awards, it will empower new filmmakers to experiment and bring back glory to Marathi cinema.