After an ill-fitting role in The Tuxedo, an also ran movie, Jackie Chan is fun to watch in Shanghai Knights.
Along with Owen Wilson, he provides far more fun in the new movie -- a follow-up to the moderately successful Shanghai Noon that grossed about $100 million worldwide two years ago. Expect the new film to gross much more -- and lead to another follow-up.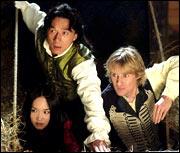 The film opened to Singapore, Malaysia and a handful of South East Asian territories and proved to be a solid hit.

Terrific chemistry between Chan and Wilson, excellent stunt scenes and deft editing, all under the inspired direction of David Dobkin make the movie one of the most enjoyable films seen in recent months. Dobkin's previous film, the little-seen Clay Pigeons, would not have indicated to anyone but the smart honchos at Walt Disney certainly knew  that he could make a breezy, action-filled spoof. This is among a handful of movies that are better than the previous film in the series.

Chon Wang (Chan) arrives in New York,  leaving behind his job as a sheriff in Nevada after hearing that his father has been killed in China. His sister Lin (Fann Wong), who has followed the murderers to London, is waiting for him. Chon reunites with his buddy and former partner Roy (Wilson) who has been publishing pulp novels about his own exploits that make him no money. Roy works as a waiter and moonlights occasionally as a gigolo.

With the help of an awkward but smart Scotland Yard sleuth (Thomas Fisher) and an urchin, Chon and Roy go after the suspects.
 
The convoluted plot now as an ambitious but distant heir to the British throne is planning to get rid of the queen and other relatives in partnership with a Chinese henchman who has similar ambitions for the Chinese throne. When Roy and Lin develop romantic relationship, the plot thickens. Chon is not sure that Roy is good enough for his sister.

The story -- as flimsy as in the first film, or for that matter as in the spectacularly successful Rush Hour starring Chan and Chris Tucker -- is a mere excuse to stage spectacular stunts and chases and to create situations for lively dialogue.

Among the funniest scenes is the elaborate sequence of a fight with fruit and umbrellas inspired by the 1950s classic Singin' In The Rain.

While Chan is far more energetic and amusing than in The Tuxedo, Wilson is fast emerging as one of Hollywood's best comics, never mind the disappointing I Spy in which he was as awkward as Eddie Murphy. The movie was one of the biggest bombs of 2002. Fann Wong is a decent comic; her stunt scenes are also finely executed.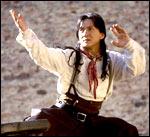 The amusing and spectacular climax is a homage to the stunt scenes in silent films like The Black Pirate.

At 114 minutes, the movie does sag a bit in the middle but for most part it is filled with inventive kung-fu scenes, farce and romance.
In the previous film, Chon was in America, and seeing him caught in a culture clash drama was amusing. This time, both Chon and Roy have to fight with the British.
We are indeed headed for a jolly good time.