The first serious contender for 2004's Oscar nominations has arrived with Seabiscuit, an inspiring tale filled with thrilling race sequences. Based on Laura Hillenbrand's bestseller true story, the film offers mainstream audiences a refreshing change from the overdose of summer's popcorn films.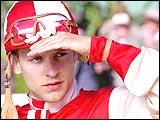 What prevents the solidly acted, handsomely executed and emotionally moving film from becoming a grand winner is director Gary Ross's tendency to delve too much into history as he attempts to show how a luckless horse transformed into one of America's greatest racehorses -- and how three colourful men were responsible for his spectacular success.
A crash course in horseracing and a re-reading of the book, which is topping the bestseller list in many parts of the US once again, would be of immense help. This does not mean you cannot enjoy the film without reading the book or knowing something about racing.
Viewing this film, however, requires a certain amount of patience because it often seems too stately, serious and faithful to the book. A bit of rebellious approach would have lent Seabiscuit more vigour and magic.  
Ross takes a long time to establish the ambience of Depression-era America and setting the three men in that difficult time in American history; he takes over 40 minutes to introduce the horse Seabiscuit on screen. 
Yet, this seemingly old-fashioned film could garner a lot of good will, strong reviews and a sleeper-hit status at the box office. The superb cast -- led by Tobey Maguire, Chris Cooper and Jeff Bridges -- is also a big asset.
Seabiscuit, the ungainly horse that became a big success in the late 1930s, was such a national phenomenon that even President Franklin D Roosevelt faithfully followed its fortunes. In an era often filled with pessimism and low self-esteem, Seabiscuit's success inspired the nation.
Hillenbrand notes that this undersized and overweight horse got more attention that FDR and Hitler in 1938; Seabiscuit was that year's biggest newsmaker. His awesome competition with racing hero Pimlico is still widely regarded as the greatest horse race ever.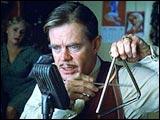 The three men who play the significant role in the horse's life are former bicycle repairer Charles Howard (Jeff Bridges), who makes his fortune introducing the automobile to the American West and who comes to own the small, weak-kneed horse. Howard teams up with a half-blind, ex-boxing prizefighter, Red Pollard (Tobey Maguire), who becomes Seabiscuit's jockey, and a former Wild West performer called 'The Lone Plainsman', Tom Smith (Chris Cooper), who becomes the horse's trainer.
Howard turns to horse racing as a diversion from various tragedies in his life. Smith, a former cowboy with a superb instinct for horse training, is spotted by Howard after he becomes jobless. And Pollard, who hails from a wealthy family, is forced into the rough world of jockeying to make a living.
Maguire is superb as Pollard and gives yet another strong performance under Ross's direction. The two had earlier worked together on Ross' directorial debut, Pleasantville. Often underplaying his emotions, Maguire creates a cocky yet vulnerable guy who stays put despite many setbacks.
Oscar-winner Cooper (Adaptation) is mesmerising as the lonely, solemn and clairvoyant man who appears more at ease with animals than people.
One of Hollywood's highly underestimated actors, Bridges invests an astounding amount of energy playing the entrepreneur with a heart and mind of his own.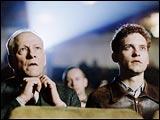 Besides strong performances from the three lead actors, several small characters shine as well, especially William H Macy as the showy sportscaster.
The actors, especially Maguire, generate adequate tension and drama, leading to the last part of the film when the horse and jockey prepare for one last shot. There is certain amount of poignancy, heartfelt emotion and excitement here. It could have been better had Ross given freer rein to the film's emotions and action.
CREDITS
Cast: Tobey Maguire, Jeff Bridges, Chris Cooper, William H. Macy
Direction: Gary Ross
Writers: Gary Ross based on a book by Laura Hillenbrand
Rating: PG-13, for language, some sexual situations, sports-related violence.
Running time: 2 hours, 20 minutes
Distributor: Universal Pictures