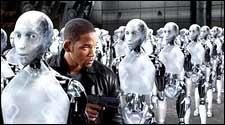 If you are expecting I, Robot to be a superior sci-fi film, you might as well search for classics like Stanley Kubrick's 2001: A Space Odyssey in your video collection.
But those who are easily charmed by Will Smith, technical wizardry, and low entertainment may flock to the new film, turning it into quite a success.
Let me warn you though: the story does not bear much resemblance to the famed book by Isaac Asimov.
| | |
| --- | --- |
| | Don't Miss! |
| | |
The film offers a handful of entertaining moments, especially in a hair-raising sequence wherein vans full of vicious robots attack their relentless foe. The shimmering robots also put up a stiff fight in the climax endowing the film with a bit of belated energy.

Director Alex Proyas was at the helm of the cult favourite, The Crow, which was a medium-range success in theatres, but made millions in video and DVD sales.

Proyas's new film, despite a big budget (over $100 million) and Will Smith's presence, lacks the humour and humanity of the sci-fi entertainer Men in Black.

If I, Robot had been made on a low budget, I would have dubbed it passable entertainment. But with such vast resources at his disposal, Proyas disappoints.

The story of a detective realising the dangers robots pose to humans and his efforts to control the bad ones of the lot isn't excitingly narrated.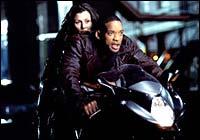 It is hardly surprising that almost no one believes the robot-hunting detective (Smith), especially since he is not even a scientist. Ditto for the efforts of the robots to hide their evil designs. There isn't anything startling about the way the detective's true identity is revealed in this futuristic tale set in Chicago.
Police detective Del Spooner (Smith) suspects a robot named Sonny of killing its creator Dr Alfred Lanning (James Cromwell). Spooner fails to persuade his boss (Chi McBride), the head of US Robotics (Bruce Greenwood), and Dr Susan Calvin (Bridget Moynahan), a psychiatrist who studies robots, to stop Sonny. They refuse to even consider Sonny a suspect in Lanning's murder.
Meanwhile, the giant firm that produced Sonny is about to flood the market with a housekeeping model called the NS-5. As Spooner's suspicions increase, he is attacked by scores of NS-5 robots. These attacks create some of the movie's genuinely thrilling scenes, especially those involving a chase through a tunnel.
Instead of convincing the scientists of the extraordinary evil lurking around them, the attacks on Spooner have the opposite effect. Many people are now convinced that the obsessed Spooner has become a dangerous paranoid. Predictably, the only person who believes him is Dr Calvin. She stands by him and aids him effectively as he goes through his mission.
The movie would have gained considerably if the Sonny-like robots had had interesting personalities. Sonny's own appeal is considerably enhanced by the effective voice of actor Alan Tudyk. Tudyk brings Sonny to life by giving it a distinct personality and voice. On one level, Sonny is mysterious and offers hints of a menacing nature. On another, it looks gentle, wanting to hide its martial skills.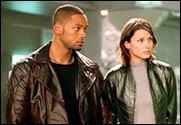 Giving the film more credibility than it deserves, the charismatic Will Smith and his humorous personality stand out amidst the chaotic and dangerous world around him. It's the script that fails him for the most part. He needed better lines, funnier situations, and intriguing scenes to provide a better account of his talents.
Proyas hasn't been able to create sufficient chemistry between Smith and Moynahan. And that is one of the major weaknesses of the film.
CREDITS
Cast: Will Smith, Bridget Moynahan, Alan Tudyk, James Bromwell, Bruce Greenwood, Adrian L Ricard, and Chi McBride
Director: Alex Proyas
Screenplay: Jeff Vintar, Akiva Goldsmith, based on Isaac Asimov's story
Rating: PG-13
Running time: 1 hour, 54 minutes
Distributor: 20th Century Fox