On Friday afternoon, as he sat in a freezing cold New Jersey theater watching Kamal Haasan's latest film Vishwaroopam, a two and a half hour long international terrorism thriller and an expensive production for Indian standards, Aseem Chhabra kept trying to figure out one thing. Why did the film offend some Muslim organisations and why has it been banned in Tamil Nadu?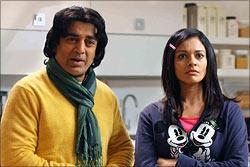 I have lived in New York City, before and after September 11, 2001 and there have been so many real and attempted incidents of terrorism in and around the city, and most were planned by some Muslim fanatics. That is not to say that all Muslims are terrorists, although that message is lost among some Americans and perhaps to some extent in Vishwaroopam.
Haasan's intricate plot that spends substantial time in Taliban controlled and Al Qaeda run Afghanistan, and then brings the terrorists in the heart of New York City is not intentionally offensive to Muslims. The filmmaker presents us with the reality of these Islamic groups, as we have learned about them from many other sources.
But I did find the film slightly irresponsible in that it does to some extent stereotype Muslims in America. There is no noteworthy positive Muslim character in the film (actually there is only one, but I cannot reveal any details, since that would be a spoiler).
Most of Muslim terrorists in the film led by a very creepy and effective Rahul Bose, playing a senior Al Qaeda operative Omar, who is close to Osama bin Laden, have a one-dimensional personality. Good thing very few Americans come and see Indian films, otherwise I would worry about them getting misinformed about Islam and its followers. I had the same issue with Renzil D'Silva's Kurbaan (2009) which also stereotyped Muslims and showed them as scary characters living in American suburbia.
There is certainly no reason to ban Vishwaroopam. I do not believe any form of creative act should be banned, especially in a democracy that values free speech. And Vishwaroopam is just a film, no threat to Muslims – in India and elsewhere.
But I would question why Haasan made Vishwaroopam, and released it 11 plus years after the September 11 terrorist attacks. The story of Vishwaroopam has nothing new to offer. It has been narrated enough times in the recent years. The film, its theme and message (if there is any) appear dated. As audience members we have really moved on especially now that Kathryn Bigelow has made Zero Dark Thirty.
Vishwaroopam works on a few levels. For fans of Haasan's dramatic performances, this is a good opportunity to see their star as three very distinct characters – actually, it is one man with three different personas. Revealing more details would give away crucial elements of the plot and that will not be good for those who want to enjoy the film.
Haasan is very impressive, although he has now shown this Zelig-like persona a couple of times (in Hey Ram and now here in Vishwaroopam). But I could not help think of Aditya Chopra's oddly charming Rab Ne Bana Di Jodi, where the young bride played by Anushka Sharma did not figure out that the two men wooing her were played by the same character – her husband Surinder Sahni (Shah Rukh Khan).
And so as Vishwaroopam opens, Nirupama (played by the New York-based actress Pooja Kumar) seems dissatisfied by her husband, an overtly effeminate dance instructor Vishwanathan or "Wiz" (Haasan). It is hard to believe that Nirupama, even though she admits hers is a marriage of convenience, cannot see through Vishwanathan's real self.
But then again Indian cinema is a class by itself – whether it is Bollywood or a Tamil film like Vishwaroopam. It has its own sense of logic that is often overridden by the demands of movie stars, and challenging it makes no sense. Either we accept it or we reject it.
In accepting Vishwaroopam, the way it is visualized by Haasan, we can be rewarded by the film's middle section – set in Afghanistan, although shot in Jordan. Here we are placed in the Al Qaeda territory. The cinematography, production design, sound design, costumes aerial helicopter shots, scenes of war, makes the situation very effective. And it helps that Bose's Omar is the key character in these scenes.
The New York segments in the film, especially in the third act, seem dull, and uninteresting. Moving from Afghanistan, back to New York, the film somewhat loses its edge, and falls into the often narrated thriller structure – bad guys, good guys, cops, FBI (always played in Indian films by weak white actors), a dirty bomb and guess who will win in the end?
No prize for that, but I do hope Haasan wins against the culture of intolerance that is spreading across India. Vishwaroopam is not a great film, but it deserves to have its chance to play in theaters. If democracy is to survive and thrive in India, then the state, its legal and law enforcement agencies must ensure that voices of intolerance will not be able to shut down a film or a play or ban a book.
Rediff Rating: