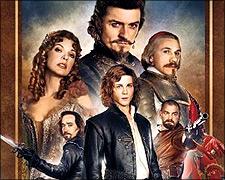 Shaikh Ayaz writes that The Three Musketeers looks more like a dress rehearsal than a film. Post YOUR reviews here!


Yet another reimagining of Alexandre Dumas' novel, director Paul W. S. Anderson's version of
The Three Musketeers
is as awful as one marginally expected. It looks more like a dress rehearsal for a period drama than a film. There are fancy sets and props and state-of-the-art effects but they do not compensate for lacklustre storytelling which becomes a side-piece in most such adventure films.
To serve France is at the centre of
The Three Musketeers
. On the way to Paris, the country boy D'Artagnan (Logan Lerman) gets a taste of what he is to expect in this town right off the bat. He meets a bunch of swordsmen and antagonises them, demanding they apologise to his horse. This is taken from the iconic scene from A Fistful of Dollars where Clint Eastwood shoots the bullies who refuse to say sorry to his mule.
Like the squinting cowboy, D'Artagnan is not a man yet. He hopes to become one soon when he rounds up the three musketeers, Porthos (Ray Stevenson), Athos (Matthew MacFadyen) and Aramis (Luke Evans). Their collective idea of upholding the French honour and self-respect
is to reclaim the Queen's diamond necklace. They do a Pirates of the Caribbean on the skies, taking on their adversaries on specially-crafted airships to retrieve the prized jewel. 
Toward the end, the musketeers repeat over a sword-toast that such a cause is "worth fighting and dying for." But that's not the bad news. It's the leeway the director takes to hint that there may be a sequel that scares you the most.
Richard Lester's 1974 rendering of the novel (
The Four Musketeers
) was big in its idea, vision and scope and what it could achieve. Cinematic adaptations of literature usually suffer because in a book an author is blessed with the possibility to flesh out his characters to his satisfaction as opposed to a director who is limited by length and the extent to which he can let the narrative flow.
Lester succeeded in making a really good film because he found a balance between the author's free rein and the director's restrain.  On the contrary, Anderson finds no such balance. Therefore, his version falls flat as a poorly adapted one and its effect is further exacerbated by second-class acting.
Rediff Rating: