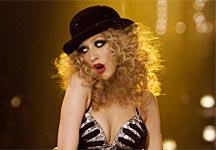 Shaikh Ayaz reviews Burlesque. Post YOUR reviews here!

Though separated by miles in almost everything, Christina Aguilera's Ali Rose -- an Iowa girl with dreams of making it to the top -- is a bit like Capote's free-spirited Holly Golightly.
Having said that, I'm not venturing to draw a parallel with that delightful, fictional-factual creation of the late 1950s.
In my opinion, which matches with almost everyone's, Holly is in an exclusive league inhabited by her and her cat alone. If Ali and Holly are on the same podium, it's only because both are looking to belong somewhere, someplace. Tut-tut, that's where all the similarities end.
At the heart of writer-director Steven Antin's Burlesque, a musical with lingerie-flashing, derriere-gyrating performers at the eponymous LA lounge, is love.
An orphan, Ali's (Christina) life is bleak, in the absence of any kind of love. When she arrives, wide-eyed and excited to croon and dance at a lounge owned by Tess (Cher), she develops an instant mother-like fondness for her employer and almost as quickly finds a friend in a bartender. And once inducted into the pack of performers, she increasingly looks at the club as her home. So do the other dancer girls.
This feeling of home, love, domesticity is constantly juxtaposed with the temptingly sinful setting of the club itself, where the inebriated rich bourgeois come to watch women perform. Within this framework, Antin creates sub-plots around jealousy, friendship and isolation against the background of song-and-dance, reminding, at least to the Indian viewer, about Bollywood.
So you have Ali replacing the well-established Nikki as the star performer and the latter's misfired attempt at revenge, her falling in love with the on-the-rebound bartender Jack (Cam Gigandet), her occasional outings with the businessman Marcus (Eric Dane) and of course, her relationship with Tess which could have developed into something deep.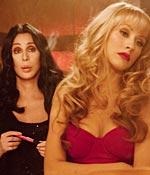 In

that respect, it's a very Bollywood plot. In fact, the scene in which Ali struggles to get Tess' attention for a job, the fact that she wants to be 'up there', selling herself to her, takes you to the one in Band Baaja Baaraat in which an up-and-coming wedding planner (Anushka Sharma) breaks into a farmhouse to seek work.

Right from the beginning, Burlesque never looks like it'll make the cut, be above mediocre and even measure up to maybe Moulin Rouge, Chicago or Cabaret, films of somewhat similar genre. So much of its sub-plots lay unexplored, especially the relationship between Ali and Tess which remains central but never engaging or touching.

To be honest, I encountered some real gems, in terms of dialogue. For instance, Tess reprimanding an assistant for bringing up the issue of cheques and payments while she's working, 'No business during business hours.'

Or when Sean (Stanley Tucci), the manager, counsels Jack, 'Every opportunity has a shelf life.'

Incidentally, the quirky equation between the sardonic-tongued Sean and Tess uplifts certain scenes.

Cher, the pop star in the twilight of her career, a one-time Academy Award winner, finds herself with little material to hold up to. Though one can't spot faults with her performance, she at times behaves more like a polished bordello-keeper than the tough-headed running the club.  

On the other hand, Christina Aguilera is pleasant to look at but she has a difficult road ahead if she plans to outdo Scarlett Johansson with whom she shares some physical similarities from certain angles. She's also been credited as the executive music producer and the songs, including Diamonds are a Girl's Best Friend and Cher's Welcome to Burlesque, do justice to her selection.

All things considered, Burlesque fails to rise above what it aims for. Hollywood has seen far better musicals. For everything else, there's always Bollywood.

Rediff Rating: