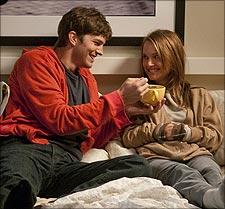 Elvis D'Silva reviews No Strings Attached. Post YOUR reviews here!


The actress Natalie Portman is being touted as this year's front-runner to win the Academy Award for Best Actress for her performance in
Black Swan
.
However, if every one of the excruciating minutes one spends watching
No Strings Attached
is any indication, Ms Portman's judgment while accepting a movie role is far from exemplary.
No Strings Attached
co-stars Ashton Kutcher and is directed by Ivan Reitman -- a man who has made movies like
Ghostbusters
and
Twins
earlier in his career.
So was the package supposed to make us want to go see the movie? I suppose the trailer was mildly amusing, but as time passed I realised that all the key moments in the film were already covered in the trailer. Uh, oh!
So what is the film about, you ask?
The concept of Friends With Benefits -- that kind of relationship in which a couple may get together occasionally for casual sex, but they are neither in a committed relationship nor do they share any of the (non-sexual) intimacy that 'couples' do.
So...that means this cannot be a romantic comedy, right? Especially since there isn't supposed to be any romance involved? It is not strictly speaking a sex comedy either because what little sex is left on screen is...not very sexy. Therefore as a broad audience, what are we watching?
It becomes very apparent
very quickly that even the filmmakers don't seem to know. Not unless all people concerned really thought that piling on the swear words and making the leading lady consistently unlikable would make for an enjoyable movie-going experience.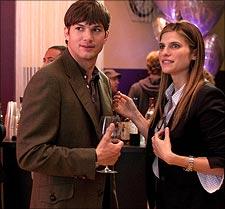 Ashton Kutcher's character lives in a nice house (that his father probably bought him), works on a teenage television show as an assistant (a job he probably got because of who his father is) and he has issues with his rich and famous daddy (Kevin Kline, going through the motions). Is it logical that such a guy would fall for a girl who only wants 'to keep things casual'?
Probably. But it is not fun to watch.  
Mostly because none of the characters are likable. Yes, even among the secondary cast that features names like Lake Bell, Chris 'Ludacris' Bridges and Greta Gerwig. The dialogues are lame, the line-reading is self-aware and Mr Kutcher looks like he is struggling to deal with this estrogen-fest masquerading as a 'bawdy comedy for modern times'.
Apparently this was a hot screenplay in Hollywood and the writer Elizabeth Meriwether has become a sought-after name. But if this is how things are progressing in the romantic comedy movies being made in the First World, it won't be too long before I Hate Love Stories.
Rediff Rating: