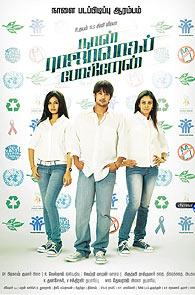 Naan Rajavaaga Pogiren has an uninspiring storyline, dialogues and average performances says S Saraswathi

Naan Rajavaaga Pogiren marks the directorial debut of Prithviraj Kumar in which national award winning director Vetrimaaran has written dialogues and is also believed to have directed one particular shot for the movie.

What's more interesting is that, he, along with Music Director GV Prakash, and cinematographer R Velraj, has made a special appearance in the film. All three appear as judges at a college cultural event featuring the lead actors.

The film is produced and distributed by Udhayam VLS Cine Media, and has been cleared by the censors with a clean 'U' certificate. Nakul, Chandni and debutante Avani Modi play the lead roles along with a support cast of Manivannan, Delhi Ganesh and Mayilsamy. The film also has an item song featuring Zarine Khan of Housefull 2 fame.

The film opens in picturesque Himachal Pradesh among the lush apple farms, where both Jiva (Nakul) and his mother (Seetha) work for a living. By a chance meeting with an army officer stationed there, who mistakes him for his friend, Jiva learns that he resembles his college mate Raja (also Nakul) in Chennai.

We are then taken in a flashback to Chennai, where Raja, Rema (Avani Modi) and Wahab are college mates. After some fun and laughter, the film gets intense. Rema falls in love with Raja, but just when she is about to declare her love, Valli (Chandni) enters the scene. Raja falls in love with Valli, a social activist and law student, who believes in fighting for a just cause.

She is part of a team of activist under Kamrajar (Manivannan),
who protest against genetically modified crops using Bt genes. Now enters the lead antagonist Esakimuthu, who is in cohorts with foreign investors to promote the sales of Bt seeds in India. Esakimuthu and his men kill Kamrajar and are in search of Valli, who they believe is the cause of all their problems.
Now back to Himachal, where Jiva embarks on a journey to Chennai to meet his lookalike.
The film has a lot of twists and turns, flashbacks, song and fight sequences and of course the much-talked about item number; in short the film has all elements of a quintessential masala film. However, nothing seems to work for the film. Not even the dialogues by popular director Vetrimaaran do any wonders.
The winning combination of GV Prakash (music), R Velraj (cinematography) and Kishore TE (editing) seems to be the preferred choice of technicians for Vetrimaaran and his associates.
Cinematography by R Velraj, as usual is impressive, but the film definitely needs work in the editing department.
Unfortunately in
Naan Rajavaaga Pogiren
, even the Prakash touch seems to be missing.
Neither the lead nor the supporting performances stand out. Nakul looks somewhat gaunt and unappealing.
Even the female casts do not score in the looks department. On the whole,
Naan Rajavaaga Pogiren
, has an uninspiring storyline, not so impressive dialogues, and some very average performances.
The only saving grace of the film is a few fight sequences. Give it a miss if you don't want to get bored.
Rediff Rating: