The history of Hollywood is littered with tales of personal projects that filmmakers obsessed over for years (sometimes decades) only to have people wondering what all the fuss was about when the movie eventually came out. Gangs of New York was a passion project of Martin Scorsese's for a very long time but the box office and critical reaction to the overlong jumble that eventually hit movie screens showed how time and age can cloud a filmmaker's judgment of the material.
Milk was another project that had been in the making for nearly two decades, with director Gus Van Sant himself trying to make a story about the film's central character for over fifteen years. Based on the last eight years in the life of a San Francisco-based gay rights activist, the movie that finally hit movie screens around the world in 2008, is one of the big nominees at this year's Oscar awards.
Rich with atmosphere, this movie chronicles a gay man's rise from anonymity to the unofficial title of 'The Mayor of Castro Street' (the birthplace of the gay rights movement that took root in the US in the seventies) to eventually becoming the first openly gay person elected to public office anywhere in America.
Unlike many other biographies, Milk is not hampered by the demands of having to cover its subject's life from birth until death. Since Harvey Milk truly came into his own when he took it upon himself to chaperone the gay rights movement through its grown pains, that is the only period of his life the filmmakers saw fit to focus upon. And they did it very well.
Editing in historical footage (ranging from grainy film to poor resolution video) with the filmed portions that reenact the high points of Harvey Milk's activist years, the movie does a phenomenal job of capturing a tale of determination in the face of nation-wide prejudice and constant threats of violence and persecution.
Sometimes a biography, designed to glorify its subject, will gloss over certain portions of a life so that it appears that the person was uni-dimensional and therefore able to achieve whatever success he or she was feted for. This movie manages to give its principal character way more credit for being human.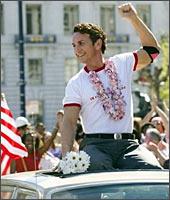 Through several failed attempts at running for public office Harvey Milk finds the time to have a serious relationship, recruit other people (gay and straight) to his cause, pick up a neurotic lover along the way, while making a few friends and a lot of enemies every step of the way.
One person who appears to straddle that friend/enemy divide is a buttoned-up Supervisor named Dan White (Josh Brolin) with whom he shares a complicated relationship, that is neither glossed over, nor placed in harsh relief to all the other goings-on in the activist's life, even though White goes on to play a very important part in burnishing the legend of Harvey Milk.
The cast turns in good performances across the board. Emile Hirsch as Cleve Jones, a young recruit to Milk's cause who ends up being instrumental in some key achievements for the campaign; Diego Luna as the high-strung Jack Lira and especially James Franco as Scott Smith, the younger man who was Harvey Milk's partner in the years leading up to his political activism, provide able support as mile-markers in the lead character's journey.
The most significant contribution towards the effective retelling of this piece of history however, is the collaboration between director Gus Van Sant and his leading man Sean Penn who turns in another stellar performance as Harvey Milk.
The gay lifestyle does not enjoy a lot of face time in popular cinema, either in Hollywood or closer to home, especially bereft of irony or when it is not being treated as a joke. Taking all that into consideration this movie very rarely comes across as being set in an alien universe. Through its restating of the defeats, the triumphs, and notably with that poignant final sequence, this movie offers a point of relation to any individual or group that has ever struggled for acceptance and the right to live a life without shame or fear.
Like most good biographies, this tale of one man (and his supporters) serves as an inspiration to us all. At a time when intolerance and bigotry threaten to become a global epidemic, patronizing art like this might help us see our world for what it is, and more importantly, for what it could be.
Rediff Rating: