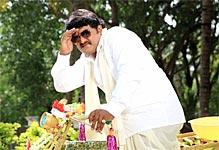 Shruti Indira Lakshminarayana feels that Kannada film Maryade Ramanna is watchable only for Komal's performance. Post YOUR reviews here!

For Ramu (Komal), a daily wager, who is looking to buy a goods auto, a letter stating that he can come and claim his ancestral property comes as a blessing. Ramu immediately leaves for his village and once there, seeks the help of the hospitable and powerful Desai (Mukesh Rishi) family in acquiring and selling off the land.

The Desais are more than willing to help until they find a link between Ramu and the death of their own relative. The daughter of the house falling for Ramu only pushes Ramu further to the wall. Will he then come out of the house safe?

Maryade Ramanna tests your patience in the first half, but Komal manages to up your sprits in the second half with his antics. Despite the film remaining faithful to its Telugu original, Maryada Ramanna, Komal infuses enough laughter. If you are looking for full on comedy, true Komal style, you may be disappointed. The film is more about family sentiments. In fact the breezy second half gets heavy at the end with high drama marking the climax. 

Actor Upendra has lent his voice to a talking cycle in the film and much was said about this. But the concept doesn't stand out.

Music is not out of the box either.

So what will you watch the film for? Simply, Komal's performance. He has worked hard on his dance moves too. Mukesh Rishi and Rajesh also do a neat job. Heroine Nisha Shah is okay.
If you haven't seen the original, the film is watchable. 

Rediff Rating: