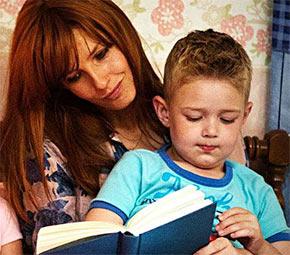 Heaven is for Real is a well scripted drama that manages to warm your heart, but its religious undertones are a bit annoying, writes Paloma Sharma.
There are times when you look at religious texts with great reverence. Then there are times when you wish somebody had included an 11th commandment that goes something like,
"Thou shalt not make slow, faith - based films targeted specifically at the devout while simultaneously trying to usher sceptics to the other side."
(I get why that's not a real thing, though. Its just way too long to carve.)
Randall Wallace's Heaven is for Real is based on Reverend Todd Burpo's bestselling eponymous novel, in which the preacher from Imperial, Nebraska documents his son, Colton's, out of body experience while being operated on due to a ruptured appendix, and his visit to heaven.
A third in the Bible-based line up of recent times, after Noah and Son of God (which is now a repressed memory), Heaven is for Real claims to be based on a true story right in the beginning.
However, it has the courtesy to present any opposing view as well - no matter how weak the argument is. If you think that the infidels can ever win, please stop reading Ayaan Hirsi Ali and pay attention.
Heaven is for Real's title says it all.
The film opens with the Burpos' living in tough times, with Todd (Greg Kinnear) doing 5 different jobs to support his family - including that of a preacher at the local Wesleyan church.
His wife Sonja (Kelly Reilly) manages the choir.
They have two children together -- Cassie, and the younger one, Colton.
Despite the economic hardship, the Coltons are a happy family. Until Colton's appendix gets reptured and he has to undergo surgery immediately.
The surgery saves his life but when he comes out of the operation theatre, he casually starts narrating events that took place while he was unconscious as well as telling stories about his trip to heaven.
Todd, though a man of faith himself, finds the stories about heaven hard to believe at first. However, when Colton talks about meeting with people from his parents' past - people who he could not possibly know about - Burpo starts taking his son seriously.
However, when word of Colton's trip gets out, not everyone is happy with it - not even a few members of Todd's church -- and the Burpo family's faith is under trial.
Heaven is for Real owes a lot to Greg Kinnear, Thomas Haden Church and Margo Martindale for making the film bearable.
Kinnear is perfect as a small town preacher who finds himself doubting everything he has ever preached.
Church and Martindale (better known as Miley Cyrus' grandma from the Hannah Montana movie), both of whom play senior members of the church community, complete Kinnear's performance.
The background score is Godawful with the exception of the occasional musical burst from Sonja and you are expected to a build up that's slower than the movement of traffic in Mumbai.
Connor Corum is aww-inducing as 4 year old Colton but eventually, having to listen to extensive versions of his trip to the heavens, makes you want slip into a slumber so deep that you just might embark a on a one-way journey to the younger Burpo sibling's favourite destination as well.
Oh, and Colton meets Jesus - who, if anyone was wondering, is definitely a white dude with blue-green eyes. That is revolutionary insight, considering how almost all art during and post the Renaissance period has depicted exactly the same thing (albiet with slight variations).
Heaven is for Real is a well scripted drama that manages to warm your heart, but its religious undertones are a bit annoying, especially when the only opposing views in the film are those that mock or the more intellectual kind that are placed for tokenism.
If you believe in the power of God and faith and love, then this might work for you as a TV movie. For the rest of us sceptics, despite being based on an "true story", Heaven is for Real is very, very fake.
Rediff Rating: