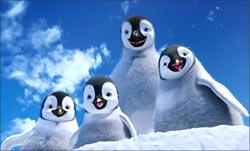 Shaikh Ayaz feels that Happy Feet Two makes use of stale jokes all throughout.

If anything, the dancing penguins don't seem to have two left feet but it does look like those steps must have taken months of practice (on animation).

But when the tiny tots take on the stage, set against the backdrop of the dazzling glacial vista of Antarctica, they turn themselves into rockstars.

It's only in moments like those that Happy Feet Two comes truly alive, urging the worst dancers among the audience to get up and join them. At the heart of this 3D sequel to the 2006 Academy-winner Happy Feet is the lack of its little hero's ability to dance, much his father Mumble's (voiced by Elijah Wood) who struggles in the first flick with Daffy-like (even Henry's polka jig from Oswald) mis-moves.

Erik, the fluffy Penguin protagonist, is looking at ways to express himself. He is impressionable and has made up his mind to dance, and not sing like his mother.
Buoyed by a penguin who can fly, a very rare phenomena, he realises this is what he wants to do -- this particular element is symbolic of his desires to be free and fly and to be able to express freely. Erik would have been a beautiful character to develop, imbued with qualities that could have made him more endearing to adults than kids.
Instead, director George Miller slaps one gimmick after another, introducing more characters than the story can contain and that's precisely where things go wrong. Attempts at slipping in the message of global warming and climate change appear half-hearted and eventually have no effect.

Other than Erik, one wishes Miller had focussed more on the pair Will and Bill, the krills (voiced by Brad Pitt and Matt Damon) who are an amazing new introduction to this film. In a funny moment, they wonder if they can start a family of their own to which they are reminded of their biological truth -- that they are males. Bill suggests, in all earnest, "We can adopt."

Sadly, such moments are few and far between. Mostly, Happy Two Feet makes use of stale jokes and commits the greatest mistake of actually believing that this could amuse you. To the director's surprise, it does but only in parts.
For most of its running time, Happy Two Feet tries too hard to fit into its self-created 'cute' quotient.

Rediff Rating: