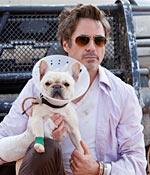 Raja Sen reviews Due Date. Readers can also send their reviews here.

When an actor really discovers his stride, there's little you can do but hang around for the ride. Robert Downey Jr is a fine leading man, a superhero with immense romantic charm, dry wit and magnificent comedic chops (his Tropic Thunder performance will remain a masterclass) but he barely shows any of this off in his latest film, Due Date. Because in the driver's seat, the possibly sticky driver's seat, sits Zach Galifianakis, a brilliant bearded buffoon worthy of immense celebration.

Last seen as the most memorable part of the intensely, unashamedly funny The Hangover, Galifianakis is that rarity, a spanking new comic talent with a very original voice and presence. Combining the physical comedy dexterity of, say, Larry of The Three Stooges with the socially inept awkwardness of a Will Ferrell / Steve Carrell is tremendous praise in itself, but Galifianakis brings to his self-deprecation a level of fearlessness that makes it impossible to look away from him. As a character he's both shy and unafraid, and as an actor he's willing to throw in an effeminate strut so effectively its impossible to imagine him without one. Due Date showcases an explosion of talent — a fascinating, flatulent explosion — and even RDJ can only do like we do, wince a little and laugh a lot.

The plot is unquestionably a retread of that seminal John Hughes film, Planes, Trains And Automobiles, with RDJ in the Steve Martin role and Zach stepping in

for the late, great John Candy. Without going into too much detail, the film involves two very different men forced to ride together on a long trip, in this case from Atlanta to Los Angeles. It is a standard-issue bromance trope — like that of two extraordinarily different cops, for example — and Due Date rides it with little reliance on plot and logic — which is why an awful lot of things go boom — and a lot more banking on characters — and the two actors inhabiting them.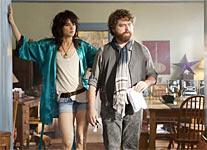 Downey's Peter Highman (pronounced, naturally, Hymen) is a jerk. Stripped of his papers and in desperate need of a ride so that he can make it to LA in time to see the birth of his son, this is a man who doesn't bother to take his necktie off even when they're in a seedy house, scoring weed. Quickly angered — and also quick to mellow, when stoned — Highman is a rough, unlikeable fellow, a man extreme enough to punch and spit on kids and dogs, and one gets the feeling he's written so unsympathetic only so that the filmmaker can slam him through enough levels of situational hell that we begin to feel sorry for him, despite his innate toolishness.

Galifianakis plays Ethan, an aspiring actor with a strange last name and an unflattering perm, off to LA to salute the creators of the extremely popular and extremely critically savaged show, Two And A Half Men. With him is a mutt with a rather active paw, and a coffee can containing roughly 11 cupfuls of his father's ashes. His priorities change rather quickly, but he is indubitably 'a good guy' — despite the havoc he will invariably wreak on anyone within a certain radius.

Director Todd Philips, who also made the aforementioned The Hangover, is easily enough tempted to give his film wild wings and turn things entirely ludicrous, which is a shame considering the intimate, quieter moments — when a bloody-nosed RDJ in a men's room proclaims himself Julia Roberts and dares Galifianakis to act like he's breaking fatal news to her, for example — are what really shine. It is a film capable of such brilliance, but it seems to choose the low road more often than not. Which also works, simply because the leading actors are so bloody watchable.

One of them more than the other, of course. All hail the new messiah of mayhem.

Rediff Rating: