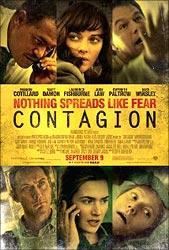 Shaikh Ayaz feels that Contagion has a thrilling and gripping story to tell. Post YOUR reviews here!

In total command over the destinies of his subject and characters, director Steven Soderbergh generates heart-pumping thrills around a gripping story of a global pandemic in his new film, Contagion.
There's a sense of urgency with which Steven narrates his story. Its impact over the affected lives are told in smooth transitions.

Operating in the fields of medicine, public health and safety, Steven knows he has the wider responsibility of not letting the individual take the focus away from the larger concerns -- a frightening outbreak that threatens the existence of human life.

Which is why this film is not about Matt Damon, Jude Law or Kate Winslet. Instead, it turns its heavy-weight star power into regular professionals -- doctors, medical intelligence officers and bloggers.

In the first few minutes itself, Beth Emhoff (Gwyneth Paltrow) is introduced to us as the first fatality of the widespread virus. Shortly, it's her son and then the transmissions are so rapid that it sets the medical experts on a wild-goose chase. Suddenly there is a challenge before the medical community as cases start piling up from London to Tokyo.
Furious investigations are launched of which Erin (Kate Winslet), an epidemic intelligence officer, becomes the face. She blurts out unbelievable statistics, causing more fear and blogger Alan's (Jude Law) reportage and predictions only add to the paranoia. 
As the human race heads into the disaster zone, you see people experience seizures and being quarantined, mobs rioting and an absolute sense of anarchy everywhere.
In the end, Contagion is not as much about the rise of the pandemic as it is about the spread of rumour, alarm and fear in such situations. But Steven doesn't seem to take a stand on either. He takes delight in confusion and chaos (the multiple storyline offers its own complexities), and not in presenting a satire of any sort.
Sometimes, as a viewer you do feel the overdose of science. There's a sense of 'too much happening too soon' but more than that, it is the excessive scepticism and fear which dominates nearly every frame of Contagion that unnerves you. But that's the very purpose of the film -- to play on your fears and create panic.
Bolstered considerably by first-rate writing and taut-plotting, Contagion is a fine example of an idea-driven film in which the performances are only a novelty, not the mainstay. It's one of those films whose moods you take away with you rather than moments.
Rediff Rating: