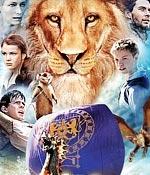 Sukanya Verma reviews The Chronicles of Narnia: The Voyage of the Dawn Treader. Post YOUR reviews here!

It's a never-ending debate. Is the book better than a movie? Truth is, imagining an adventure in one's head is never the same as enjoying someone else's interpretation of the same on big screen. Doing it on your own makes it personal and letting someone do it for you is easy but (often) disappointing.

While a great lot ensues in C S Lewis's magical parallel universe of Narnia with his meticulous description and inspiring twists, the movies -- regardless of which studio backed it (earlier Walt Disney Pictures and now 20th Century Fox) -- tweak and reconstruct the written material to create a more merchandise-friendly produce.  

The latest Narnian adventure, The Voyage of the Dawn Treader by director Michael Apted (of The World is Not Enough fame, replacing Andrew Adamson), one of the most action-packed volumes in the series, strives to achieve the same with an additional 3D attraction. But like most post-Avatar experiences, three dimension technology strikes as a futile necessity and an exasperating gimmick.
As witnessed in Tim Burton's Alice in Wonderland, 3D's so-called enhancing attributes underscore its propensity to botch up the lighting and existent CGI overload. It didn't have to be this way. The narrative offers enough opportunities for a tangible experience but for the want of keener inputs and detailing. Watching this fantasy in 2D is a more desirable option.  Does that mean I am recommending you watch the movie? Read on.

After the stupendous success of The Lion, the Witch and the Wardrobe and underperformer Prince Caspian, the youngest two of the four Pevensie kids -- Edmund (Skandar Keynes) and Lucy (Georgie Henley) -- return to the enchanted country aboard the Dawn Treader along with their unbearable cousin Eustace (Will Poulter), following a spectacular admission through a life-life painting.
The Dawn Treader is a modest-sized Narnian ship with a dragon-inspired design build by Prince now King Caspian (Ben Barnes, still lacking charisma). Three years have passed in Narnian time and Caspian wants to fulfil his oath of finding the seven lords, friends of his father then banished by his vile uncle, Miraz.
The young ruler's desire to accomplish his goal enlists the combined guts and gallantry of Edmund, Lucy, Reepicheep -- the splendid warrior-mouse (voice of Simon Pegg), an expectedly reluctant Eustace and a bunch of subsidiary characters; the kind that carry weight on paper but don't deserve a second glance on screen. But, of course, there's Aslan, the divine lion with a regal baritone (courtesy Liam Neeson) in an unacceptably brief appearance.

Against David Arnold's unremarkable score, the fellowship embarks on various death-defying explorations that lead them to mystical islands and extraordinary creatures.
In doing so, a great deal of the subtext is distorted here to bolster the authority of its young heroes. But who are we kidding? Lucy and Edmund are no Harry or Hermione, nor is their feigned excitement at being Kings and Queens of Narnia all that endearing any more. The future chronicles, if any (depending on the performance of this one), will rest on the pixie-eyed disposition of Will Poulter, who as the impossible-to-like Eustace is quite droll and unaffected.
As in the previous instalments, the importance of defeating good over evil, whether within or beyond, is highlighted with clock-like regularity. Meanwhile, values are tested and lessons learned as the impressionable victims, essayed by actors at the prime of awkward adolescence, fend off the tricky aura of sparkling treasures, magical spells, a trance-inducing neon green mist or the irrepressible White Witch.
But while the transition from book to big screen is hasty, the level of drama and energy it generates is decidedly more lavish and breathtaking than its comparatively austere source.
And that's why, yes, a ticket to Narnia is well worth it.
Rediff Rating: