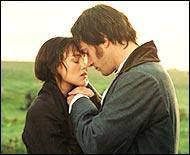 For those of you who haven't read the novel by Jane Austen, Pride And Prejudice tells the story of the Bennets -- Mr and Mrs Bennet and their five young, unmarried daughters -- who live in late-18th century England.
Mrs Bennet is in a tearing hurry to get her daughters married off and is most delighted when Mr Charles Bingley, a rich bachelor, moves into the neighbourhood. The girls are introduced to Mr Bingley and his good friend Mr Darcy, both from London.
Mr Bingley takes a shine to pretty, sweet Jane, the eldest Miss Bennet, while the snooty but strapping Mr Darcy develops a love-hate equation with Elizabeth, the second-eldest.

However, all potential love stories are nipped in the bud when the gentlemen suddenly return to London. Jane is heartbroken; Elizabeth is puzzled.
In the meantime, Mr Collins, a vicar and a distant relative of Bennets, comes calling -- in search for a wife.
He makes an offer of marriage to Elizabeth when he realises that Jane is soon to be engaged (as confided to him by an exuberant Mrs Bennet prior to Mr Bingley's departure). But Elizabeth vociferously turns him down and he proceeds to marry her best friend, Charlotte.
When Elizabeth travels to visit Charlotte and Mr Collins post their wedding, she bumps into Mr Darcy again, and this is when the love story gains momentum, and complications.
The novel has been adapted on screen quite a few times. You have the BBC miniseries starring Colin Firth as Mr Darcy; you have Bridget Jones' Diary, a novel vaguely inspired by the Austen classic and subsequently made into a film starring Colin Firth as Mark Darcy; you have Gurindhar Chadha's Bride & Prejudice starring the very American Mark Henderson as a very American William Darcy.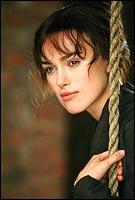 So, the story continues to enthral the romantics even today. A sitting through this latest edition, starring Keira Knightly as Elizabeth, felt like a lacklustre journey to a destination you are very fond of, but have already visited many times.
Knightly's giggly, coquettish rendition of Elizabeth, the idealistic, strong-willed heroine of the novel, is hardly Oscar nomination-worthy. At certain junctures, she displays 21st century body language and expressions.
However, one can't entirely blame Knightly. The film by itself lacks a strong character and is told in a very linear, tame sort of way. The reel Mr Collins is not even half as comical as the character in the book, Mr Darcy is almost sinister as opposed to just stiff-upper lipped (a la Colin Firth), Mr Bingley does resemble a painted peacock (in Elizabeth's very own words) and bad boy Wikham is hardly present in the film, except for two scenes, though he is slightly believable and ought to have played a larger role in the movie.
Judi Dench is brilliant as Lady Catherine De Burgh and so is Donald Sutherland as Mr Bennet. Mrs Bennet and Jane are just about all right.
The film has a few moments, but they are very few and far between -- like the war of words between Darcy and Elizabeth whilst dancing together at the ball and the bit where Darcy hands over his letter to her, and then gallops away on his horse through the forests and hills.
It's not a spectacular film by any measure, but if you have no prior expectations you may not feel very short-changed.