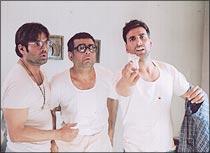 Despite our love for it, Hera Pheri is not a movie recommended for its music.
Phir Hera Pheri maintains the tradition. The nutty trio of Akshay Kumar, Suniel Shetty and Paresh Rawal return in the sequel to the comic caper, sans director Priyadarshan and co-star Tabu. And so, Neeraj Vora, who wrote the previous one, steps behind the lens, and Bipasha Basu and Rimii pitch in for glamour.
Now, Hera Pheri gang goes pink
Anu Malik was at the helm of Hera Pheri. But for the follow-up, Himesh Reshammiya (yawn) does the honours, with each track remixed by DJ Akbar Sami.
The album kickstarts on a typically Reshammiya note, with flashy use of shehnai, percussion and his own voice. Though in Mujhko Yaad Sataye Teri, he does this ridiculous mimicking voice. It's something Kishore Kumar could carry off easily but, in Reshammiya's case, it simply doesn't work. And it's not even a funny song. The tune was still somewhat decent had it been rendered conventionally. Remix: Stepped up rhythm aids to the foot-tapping element of the number.
If you ignore the repetition in his choice of tunes and instruments, you won't have a problem green-signalling Ai Meri Zohra Jabeen. Flamboyant and catchy, this one's a potential album showstopper. Remix: Not much different from the primary creation if you discount the pumped up drumbeats.
Dil Naiyyo Mane Re is best described as a screeching tussle between the nasal-toned Reshammiya and Tulsi Kumar. A crummy ditty to harp on the senses. Remix: Except for its accelerated pace and zingy background, this one's no better.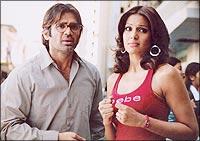 A rock 'n' roll rehash of Kem Che (Jis Desh Mein Ganga Rehta Hai), with hints of The Good, The Bad And The Ugly signature theme -- that's the title track for you. With its disjointed pattern and crazy ambience, Phir Hera Pheri doesn't have soundtrack appeal and is purely situational in nature. Remix: Mindless, uninspired and noisy!
Dil De Diya gets no points for originality. The fast-paced dance track takes unabashed inspiration from the crooner Ilo's club hit, Rapture. Remix: Loud and garish on the ears. An unimaginative reworking.
Pyar ki Chatni sounds like an Anand-Milind creation straight out of a 90s Govinda flick, thanks to its bawdy undertones and glittering arrangement. Remix: Tedious.
So, the film may be eagerly awaited, but Reshammiya's music will dampen the enthusiasm of fans.