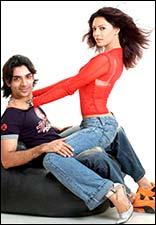 I
have no problem if Siddharth Anand Kumar and Ankur Tewari have lots of money and want to blow it on a farmhouse party.
I don't have a problem if they prefer Badshahpur instead of Goa to do so.
But I do have a problem if they call this film a 'happening' party, package it as 'Hinglish', have the guts to call it Lets Enjoy and expect us to enjoy it!
Besides, if anyone really wants to party, they would rather go to pub/club than watch this confused film.
It's been an hour since I saw the film and I am still trying to figure out what it was all about! Maybe those who have seen it, can help me out by taking this pop quiz:Is it about:
A. Raghu's search for condoms?
B. Few wanton girls prancing in hot skirts, with no legs to match?
C. Ashish Chowdhry's (Amaan) zeal to get into films, without getting a nose job done?
D. Arzoo Govitrikar (Shreya) wanting to be Aditi Govitrikar (which is not saying much!)
E. A bunch of guys wanting to be cool by saying the word "dude" 200 times in 30 seconds?
| | |
| --- | --- |
| | More on rediff.com! |
| | |
Yes, I do know that the current trend to revive the 1970s American 'ensemble films,' comprising of many characters and stories woven into one. But there is no getting away without a good plot.

Here is an attempt to summarise: Armaan Pratap Singh (Chowdhry) returns from the US to throw a rocking party at his farmhouse in a bid to get back with his ex-girlfriend Shreya (Govitrikar) and embrace his 'roots.'

Shreya arrives at the party with her friends, Sonal and Piya, but gets smitten by Karan, a mysterious musician she meets at the party.

Meanwhile, a parallel plot continues: Rajendra gatecrashes the party hoping to get a break in the modelling world; Happy, Bunny and Sodhi are lost and find their way to the party; Raghu and Reena celebrate their anniversary by searching for condoms and having sex; and the electronic engineer and DJ manage to restart the generator and bring back the music. In short, the movie drags.

I found the part where Rajendra (the wannabe model) meets a gay designer interesting. The emergence of a gay character in Bollywood is not new, although each time they are blatantly ridiculed at and misrepresented.

In Lets Enjoy, the stereotype depiction of the gay designer as funky haired, accessorised, effeminate sissy continues. But there seems to be a new trend. The bad guys are not bad guys anymore -- they're bad gays! This is yet another case of the mainstream slotting the villain's as Pakistanis, Muslims, and now gays.

Although, the entire film is set as a rocking party, the music sucks. Ankur Tewari offers the same old bhangra dance music, remixes and nothing new.

I found the risk taken by the directors to make a shamelessly urbane film a bold move. Post-Dil Chahta Hai, it's okay to make a film about friends hanging out together and having a good time. No more do we Mumbaikars have to sit through a Mithun Chakraborty-type film made for some guy in Bihar.

But Lets Enjoy does not have a mature plot like Dil Chahta Hai, and the director is not as 'clever' as Farhan Akhtar to make a commercialised package. The attempt at 'Hinglish' works for Mira Nair and Nagesh Kukunoor but not for every newcomer on the block. The script has to be funny. Sad jokes like "Mere bibi tip-top, do bachcho ke baad full-stop!" don't work without a laugh track.

Last week, I felt generous enough to give Madhoshi three stars because it highlighted the issue of schizophrenia (even if the attempt was shoddy!) For Lets Enjoy I give two stars. After all, being generous two weeks in a row is exhausting.

CREDITS
Cast: Sahil Gupta, Arzoo Govitrikar, Ashish Chowdhry, Roshni Chopra and Vinod Sherawat
Producer, director: Siddhart Anand Kumar and Ankur Tewari
Music: Ankur Tewari
Lyrics: Midival Punditz